The Tauranga-based Hinemoana waka is following the New Zealand yachting tradition of heading north for winter, but unlike most other Kiwi yachts that head north for the winter Hinemoana is hoping to make a living out of it.
Hawaiki Rising Voyaging Trust project leader and Hinemoana skipper Pat Mohi says they are hoping to earn enough taking tourists and guests on waka voyages to be able to subsidise costs for some of their New Zealand voyagers.
"We would like to go up there and offer an authentic cultural experience on-board a waka, taking passengers or clients between islands, giving them an experience of what a waka is about in the environment," says Pat.
"What we are hoping to do is maybe we can gather some funding up there and maybe be able to put that back into our youth programmes down here, to offset costs for our young ones coming on the summer programme in New Zealand.
"It just takes a bit of the weight off the kids that are waiting to come onboard, some of the money stuff. "Takes a bit of pressure off Simon as well."
Simon McDonald is the Hawaiki Rising Voyaging Trusts benefactor. He sold his internationally successful dental business, Katikati-based Triodent, a couple of years ago – leaving him with sufficient funding "to do something philanthropic".
The waka Hinemoana is enabling him to give something back via a youth-oriented 'rite of passage' experience similar to Spirit of Adventure or Outward Bound, and something that particularly appealed to young Maori and Polynesians.
"I was reading Andrew Crowe, he's been writing a book about Polynesian voyaging looking at the anthropology and history and linguistics and the navigation," says Simon.
"He asked me to read a book that he is writing, it still hasn't been published. As I read the book I became increasingly in awe of what the Polynesian explorers and voyagers did back then. It's boggling. They discovered virtually every island in the Pacific.
"They were able to build ocean-going vessels that could withstand storms that could get people from A to B and back. An extraordinary achievement that's all but forgotten."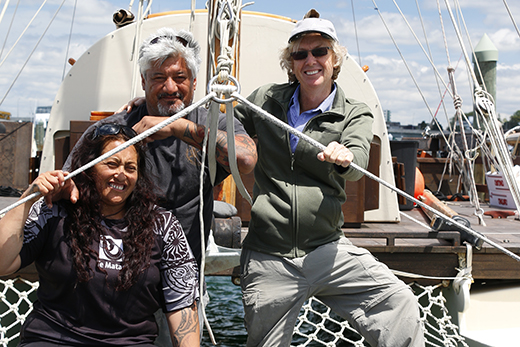 Hawaiki Rising Voyaging Trust trustee Gina, skipper Pat Mohi and the trust's director Simon McDonald onboard Hinemoana.
Hinemoana's last summer voyage finished at the beginning of June. During the next month or so the waka's electric motors are being removed and replaced with biofuel diesels.
"Some of the other wakas are now running on coconut oil," says Pat.
They will be keeping the solar panels.
The New Zealand programme is going to change a little next season because they will be picking up at-risk youth from the Turou Hawaiki scheme. The 12-week pilot programme finishes with the young people enjoying an eight-day waka voyage on Hinemoana.
The programme will change for them, there will be more land-based activities, more build-up to the ocean, just so that when the kids get out there they are aware and more secure in what they know to be safe and they are more secure need to do, says Pat.
"The waka will be doing what it does now but also carrying for those kids who are more in need," says Pat.
"It will definitely feed into the marine area, but there has to be more homework done on land. So the kids are fully versed in what they need to do when they get on the waka.
"If gives them a sense of where they are at, a sense of how to behave in a certain situation. If we can do that with the kids we'll be half way through the safety issues sorted.
"I liken it to going onto a marae," says Pat. "It's just so they are safer and can then build up better appreciation of what needs to happen on the waka. At the same time it's really appreciated by a lot of kids to have that sense of space. A lot of kids really rise to the occasion thinking: 'I'm part of something huge'.
"My history, my wife's history is working with at-risk youth, or just with people that are culturally disenfranchised," says Pat.
"They just want to be in contact with their culture and learn more about it. It doesn't necessarily mean they are from a household that is lacking.
"So it's just about exploring the idea that culture is a healthy thing and exposing the young ones to it so they feel more a part of it, and the benefits that would operate in regarding to identity and self-worth, and stuff like that."
Hinemoana is one of seven waka designed and built in 2009 for Te Mana o Moana, the Spirit of the Ocean voyage. Hinemoana was the flagship.
"She was built in mind that she would cater to all the small islands that couldn't maintain and keep the vessel to themselves," says Pat.
"So on the deck and throughout the vessel are designs and symbols that come from each of the different islands. She is the pan-Pacific vessel that incorporates all the traditions of Polynesia as well as Micronesia and Melanesia."