This beautiful Carl Augustin cabin boat would be the oldest trailer boat still operating out of Mercury Bay.
In fact she has never left the area after arriving from the Waikato where she was built in 1966. The Bernadine first impressed the author many years back when I was a young fisherman who spent numerous hours on the wharf fishing,watching boats being launched and listening to the tales from returning skippers of the time. My mother was not impressed with some of the vocabulary I acquired or my ability to recite all the launches and most of the skippers' names or in many cases nicknames. She could not fathom how this information was prioritised against learning times tables in the early years.
The Bernadine was one of my favourites together with the Ngaire which was skippered by Connie Simmonds, the first female skipper of a charter launch which operated out of Whitianga for many years. Her colourful deckie was Koni and they made a most successful team with many great catches landed.
Built in 1966 by Jack Moreland and his son Andy Moreland, the Bernadine is now the pride and joy of Kim and Grant Moreland who own property and regularly visit Whitianga continuing the family tradition. The launch has now had five generations fish off her.
The Bernadine was named after Pat Boone's popular hit song of the time and some of the lyrics in the song certainly reflect opinions expressed about the launch.
"Your remarkable form is a pure delight."
She was originally powered by a 283 Chevrolet V8 from a Corvette until 1982 when it was converted to outboard power. She is now onto her fourth outboard. The Bernadine is now powered by a 150 4 stroke Yamaha.
She was originally towed by a 1959 Ford that had the winch mounted in the boot.
She was rebuilt in 1990 with the double skinned glass hull being extended to 23 foot adding one foot to the length.
Grant and Kim proudly share memories and photos of early trips with great family trips some incredible hapuka catches evident.
They continue to be impressed with the attributes and capabilities of the design of the launch.
"The flat bottom and being so heavy enables the Bernadine to follow the waves and sit flat in a variety of seas.
"She has proved her worth and served her time."
The Bernadine certainly is a stand out and the Morelands are regularly quizzed by visitors and locals alike as to her history with many remembering her from years gone by.
With the prolification of alloy launches witnessed on launching ramps today the "Golden Girl" of another era still attracts more than casual glances .
Age does not weary this lovely lady!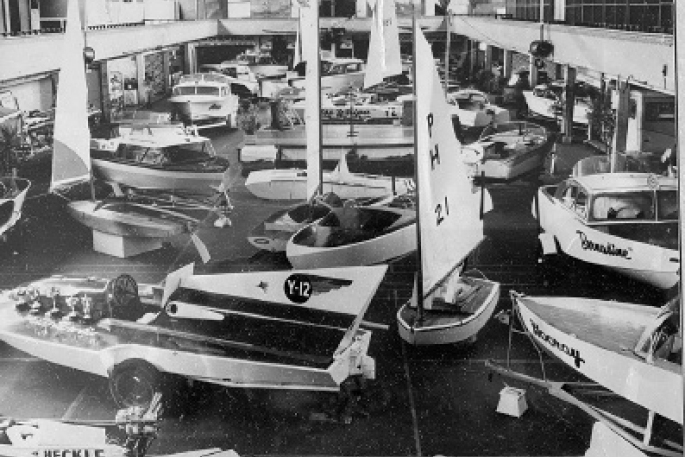 Winter Show Building, Hamilton 1962.