The Bay of Plenty's heralded Boobops Dragon Boat Club star in a new documentary that has aired in cinemas across the country.
The Pinkies Are Back follows the story of the Pink Dragons Dragon Boat Team of Auckland, as they rebuild their team and aim for success on the water despite some of them never having touched a paddle before.
The movie came about through producer and director Lisa Burd's passion for dragon boating.
In for a laugh
It is a passion project three years in the making, and Lisa was left honoured by the faith shown in her to document their story. The result is a feel-good underdog story, comparable to Cool Runnings, with larger-than-life characters and comedic elements throughout.
"I think it's a breath of fresh air to have this kind of movie," Lisa beams.
"There's a lot of movies out there, but this one is definitely different.
"I think everyone could relate to it one way or another, especially a New Zealand audience."
One of the Pink Dragons' main rivals in dragon boating are the Boobops.
Our region's dragon boating side was formed from shared experiences with breast cancer recovery, as is the case with the Pink Dragons.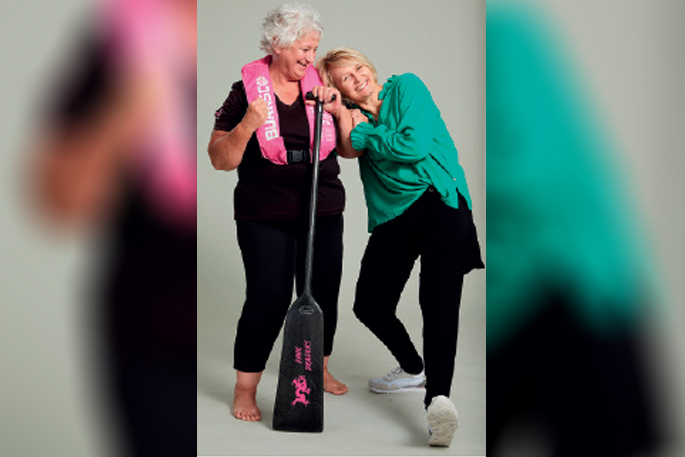 Director Lisa Burd, right, with Pink Dragons captain Annemarie Stevens.
That camaraderie and collective spirit is what Lisa hopes to have captured in this film.
"It's that whole thing about joining a team and then you've suddenly got 25 friends or at least 22 people on a boat," says Lisa.
"You suddenly, instantly, get this whole range of people that you probably would never have met before or associated with.
"That is what's so fantastic. Before you know it, you make lifelong friends."
Comrades and competitors
Jill Simpson is the Boobops captain and is ecstatic that the film has been made.
"It's really going to put a spotlight on the benefits and open it up to a whole lot of people," she says.
Jill also believes that this bond between members of the Pinkies and the Boobops gives them a special connection.
"Every dragon boat team is pretty close, but I do think the breast cancer teams have just that little something special. "Everybody knows what everybody else has been through.
"We say that we have a whole team full of sisters."
Whilst the two teams share a kinship off the water, once the paddling starts that goes by the wayside.
"Extremely competitive, the Pink Dragons are the underdogs," says Lisa. "It's like dog-eat-dog on the water. I've never seen such competitive women in my life."
Jill agrees. "Oh, absolutely," she says. "When we go to a regatta we like competing. You know, we are there to support each other and to support the health and fitness of everybody. But put us out on the water and it is game on."
For film updates, visit the Pinkies are Back Facebook page.