Here's the ultimate shallow water, high speed machine for all you huntin' and fishin' fanatics out there.
Nigel Hanmore of Whitianga built the beast, a six metre V6 jet-powered monster of a duck boat, to get him and his mates and all their gear to his remote location maimai in the Firth of Thames. Now the maimai is up for sale, and so is the monster duck barge.
It's built strong and durable from marine ply and fibreglass and has just enough vee for the jet unit to perform to its optimum.
With a central helm station, the duck boat is roomy and seaworthy, able to carry big payloads of hunters and their gear at a good clip.
The boat does 25 knots max and is equally at home in the shallows and mangroves as in more exposed waters.
It features full camo cover for duckshooters and rides on a dual axle galvanised boat trailer.
At around six metres in length and two metres wide, the jet barge is professionally built of 12mm and 15mm ply and marine glue, stainless fastenings, LVL frames and fibreglassed over the top.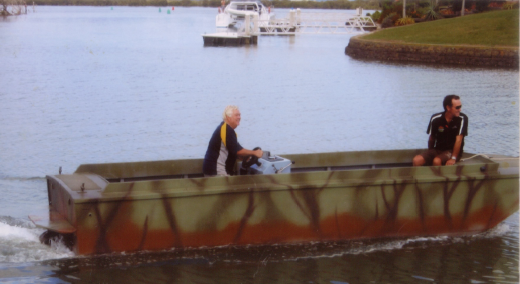 Driving the Hamilton Jet 2 stage T3 is a Holden VN V6 with heat exchange, Rolco marine manifolds and an upgraded chip for top performance. It carries 90 litres of fuel in two alloy tanks. It's fitted with a 10 inch GPS plotter.
The trailer is a tandem axle with duratorque suspension, new galvanised wheels and new tyres. Not with a current WOF or registration. Complete with a spare motor, the rig is for sale for $32,500. Phone Nigel for more information, on 07 866 0498.