Monterey Boats are relatively new to New Zealand shores but have been making boats in Florida, USA, since 1985.
In the early days they only had two 19-foot runabout models but in 1989 introduced their first family cruiser.
By the mid-1990s Monterey offered a complete line of Sport Boats and today Monterey Boats builds Sport Boats, Deck Boats, Cruisers and Sport Yachts from 18 feet to 41 feet. The company produces more than 2000 boats per year. Well regarded for its contemporary styling and above-average construction, Monterey has a reputation for customer satisfaction with the strongest warranty in the industry.
The Pinnacle of pleasure craft
Pinnacle Marine is relatively new to the marine scene in the Bay of Plenty, however Geordie Nicholson and his wife Kirsten are fairly well known in New Zealand boating circles. Geordie has 30 years' experience on the water spending many hours at sea with his Dad who was a fisherman in the early years and then progressing to sailing boats before circumnavigating the globe in some of the world's most impressive mega-yachts. Based at Sulphur Point here in Tauranga, their company is the sole distributor of Azimut and Elan Yachts in New Zealand and they are also the proud agents for Impression, Nacra Catamarans, Agapi and Monterey.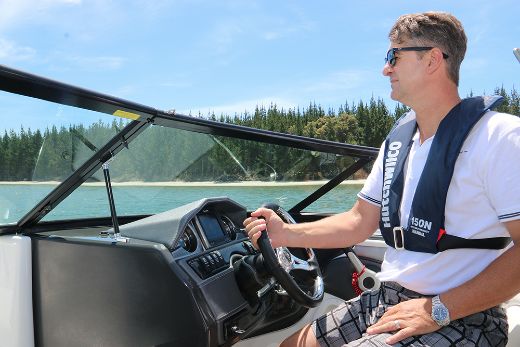 The Gin Palace
Being a sucker for a bit of luxury on the water, I jumped at the chance to take the Monterey 217 Blackfin out on the water. Stepping aboard the Monterey was like stepping into the future, its award-winning design unquestionably setting the standard for luxury performance watercraft. Every aspect of this boat a testament to Monterey's commitment to perfection and seeing a boat of such high specification as standard was quite breathtaking. Geordie told me "Monterey's engineers work hard to make sure their boats are the leaders in innovation, Monterey is one of the few boating manufacturers that update their model line every year".
The boat offers versatile, hybrid functionality from fishing to water sports to cruising. The interior's abundance of fiberglass surfaces complimented by white leatherette give a feeling of absolute luxury – a gin palace fit for the more discerning boatie yet still practical enough for a ski or a fish if the moment takes you.
The 217 Blackfin sports gunwale rod holders and plenty of stowage. An aft seat is hinged, concealing massive stowage within. A cooler stows under another seat, with access to the battery switch and stereo amp. The 217's dash is handsome with shaded analog gauges, rocker switches, stereo controls, a cup holder and leather accents. Our test boat was equipped with an integrated Garmin GPS and fish finder to enhance fishing and navigation functionalities.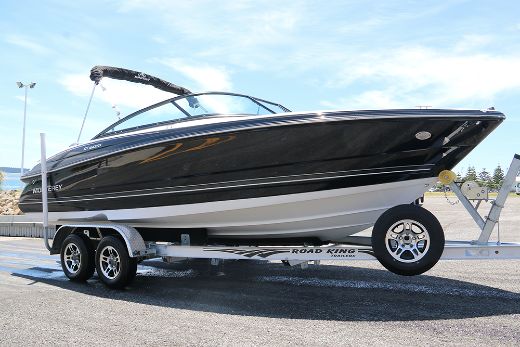 The 217 is sports-friendly as well, with a removable ski pylon plus a huge ski locker in the belly and we found the 200 horses capable for any behind-the-boat disciplines. The 217 boasts a deep-seating configuration making for a spray-free ride and keeping the family feeling safe in big water. There is a boarding ladder and a unique "wraparound" swim platform that is a really neat feature too.
This is the perfect vessel for boaties seeking an outboard-powered boat that meets the needs of family boating with a five-star finish.
The verdict
If you are prepared to spend a little more for comfort when you are out on the water then look no further than the Monterey Black Fin. Available in the colour, size and specification you want including outboard and the latest inboard engine options – these boats are built to order and delivered within a matter of just a few months. And whilst the Black Fin 217 may appear to be a big machine, myself, Chris our photographer and Geordie all stood around chatting while Kirsten backed the trailer down the ramp, landed and loaded the boat single-handedly and with ease – she is a keeper Geordie.