Seventy-six-year-old Mountie Russ Hawkins has spent most of his life both on and in the water.
Despite clocking up more than 6000 dives with the Mount Underwater Club and more than 50,000 miles skippering fishing trips with his business Fat Boy Charters, he never tires of the ocean or the 'magic of marine life'.
Russ has been a member of Mount Underwater Club for 50 years and has been club captain for the past 47 years. The club is one of the largest and oldest dive clubs in New Zealand, dating back to 1956.
"Each dive is always unique, with something new to discover, so each time I go out it's just as magical as the very first dive I did," says Russ.
Similarly, each trip on Fat Boy Charters which he has run for 20 years is memorable, not just for the fishing tales and the wonderful sightings of sharks, whales and dolphins, but mostly for the pleasure of sharing his knowledge and passion about life in our local waters with the passengers.
Russ was born in Te Aroha, but wet his feet regularly in Whangamata where his parents had bought a section in 1946 for just $100.
"Back then, Whangamata was just a few houses. There wasn't even any power.
"It was there I discovered my passion for the ocean – swimming and diving. I would dive off the wharf with just a mask – no fins – and I will never forget that first excitement as a boy when I saw the amazing sea life just under the surface. I started to learn about all the different types of fish and marine life."
Move to the Mount
It was when Russ moved to the Mount in 1970 that he really got into diving.
"I was in the postal service in Te Aroha and was lucky to get a transfer to the Mount Post Office as supervisor, which was my dream to be closer to the ocean."
Russ had taught himself to dive but at the Mount he underwent all the required courses and ended up becoming a diving instructor for 14 years at the current Dive Zone, teaching more than 500 people to scuba dive.
His diving has taken him all over the world, with highlights being the Komodo Islands in Indonesia, where he swam with manta rays and saw the incredible komodo dragon-like creatures. At Osprey Reef, near Cairns, he saw sharks gobbling up various fish frames, and has also dived alongside whale sharks in the Philippines. In the Solomon Islands he got to explore old wrecks of sunken Navy vessels and even a submerged war time plane.
As one of the Bay of Plenty's most experienced divers, Russ has at times applied his skills to the painful process of helping discover drowned bodies, alongside police and rescue divers.
"In my lifetime I have dived to find four people who had tragically drowned, two in the Wairoa river, one on the Astrolabe reef and one in a stream up Number 4 Road, Te Puke. It is a terrible thing obviously, but you put your mind on the job.
"I did speak to the wife of the man who drowned on the reef, and it gave me a sense of how important it was to the bereaved to be reunited with the bodies. So although it is a difficult job, the focus is on finding someone's much loved family member."
His job as Club Captain at the Underwater Club is getting busier than ever with waiting lists to go on the dives, and new people joining the club.
"We go out usually twice a month on the ORCA, but there is a restriction to 15 people to the boat so we do hold waiting lists too."
With the New Zealand borders being closed due to Covid-19 restrictions, and people not going on holidays abroad, Russ has noticed more people than ever turning to discovering the magic of our own waters and learning to dive.
"In particular I've noticed more fathers and sons learning to dive and diving together. And couples. Our youngest member is just 14."
And the oldest member?
"Well that would be me," laughs Russ.
Ocean adventures
Russ happily reports that there have been no 'scary' incidents in any of his thousands of diving trips with the club.
"The only one I remember is buddy breathing with a man whose air had run out but that ended well as both stayed calm."
As well his prolific diving career, Ross is an experienced boat skipper, and has been operating his company Fat Boy Charters for 20 years. Russ reckons he has clocked up 50,000 miles on the boat which has a grunty diesel motor.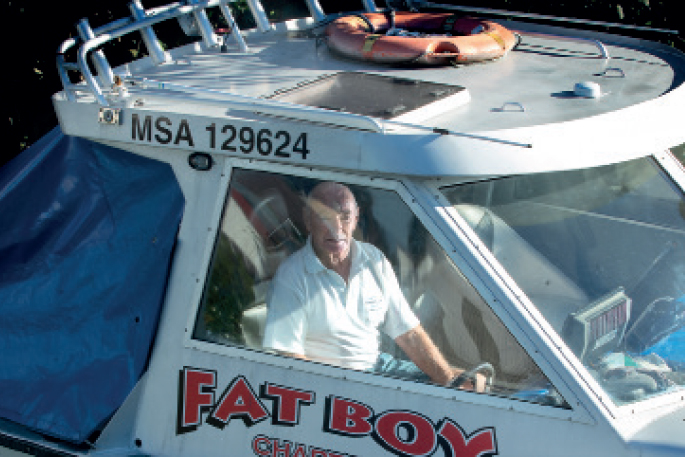 Every day he takes out groups for either a full day fishing (nine hours) or a half day (six hours). The boat travels along the coast to destinations including Tuhua (Mayor Island), Motunau Island (Plate Island) and Motiti island. Passengers are keen to fish for snapper and tarakihi, hapuka and even marlin.
"The real pleasure for me is helping people discover the thrill of the ocean. Some of them catch their very first fish.
"Even experienced fishers get their thrills. One time on the Astrolabe we were live baiting with kahawai and hooked two marlin – a black marlin and a striped one. You can imagine the look on everyone's faces when we pulled them up. We put them back into the ocean."
On the trips they regularly see bronze whaler sharks near the harbour and mako sharks out to sea.
"I have seen some Hammerhead sharks, but not so much recently, and the odd whale which is always a magnificent sight to behold. And of course if we come across dolphins everyone is delighted – we slow the boat right down to have a look but keep a respectful distance."
Covid-19 has not negatively affected business. Russ had his best financial year ever in 2019/20 and says he has just had another great season. As with diving, he has noticed more locals booking on the charters, as well as New Zealanders from other regions.
"I just took out some people from Christchurch and they loved it.
"Part of the joy of the trips is the camaraderie and all the chats we have – not just about fish but life in general."
At the end of each trip Russ fillets all the fish so everyone goes home ready to cook their catches.
Fish and family
Unsurprisingly, Russ also comes home with a haul for wife Maxine. They've been married for 51 years. Maxine does not join in her husband's water activities.
"She prefers golf. But every charter trip I go on, I phone in to let her know all is okay. In the early days she used to worry a bit, but not now."
The couple's favourite dinner is tarakihi lightly pan fried in panko crumbs, and a salad.
"On special occasions we would have crayfish and scallops, but just recently Maxine has developed an allergy to seafood – which is sad for her, but not for me, as I get to eat more of it."
The couple's two sons have also caught their father's passion for the sea, with one running the company Hawkins Marine, and another carrying out alterations to shipping containers so they can be used for other purposes such as temporary offices or storage sheds.
Despite his many trips discovering oceans around the world, Russ says his favourite spot is still the New Zealand waters.
"I love it when the Auckland easterly current arrives in summer. The water is so blue and you can look at the pelagic fish, which are schools of fish just under the surface. It is a simple sight that happens often, but I never tire of its beauty. It's at times like these when I gaze at the water and feel so grateful. Here in the Bay we really are living the dream."