Wayne Eaton and Gary Smith between them have witnessed a good chunk of Tauranga Yacht & Power Boating club's 100 years in operation.
Wayne has been a club member for 60 years and Gary for 47.
Gary follows in the footsteps of his father, Colin Smith, who was a member from 1957 until his passing in 2006.
So, what has kept them committed to the club for all these years?
It's about the racing
Wayne joined the club when he was nine years old.
"My friend and I would tow our P-class yachts on our push bikes to the original clubhouse, which is now Harbourside Restaurant," says Wayne.
"I lived on Edgecumbe Rd, so it was quite hard work getting up Devonport Rd – you had to push, you couldn't pedal."
Racing with fellow club members has been Wayne's highlight.
He has a couple of Cornwell Cup titles to his name in Z Class – "a class that doesn't exist any more".
"It's like a big version of a P Class."
He's also won a few national competitions racing 12ft Skiffs.
He remembers the electric atmosphere of 100 keelboats racing together from Auckland to Fiji in 1973.
"It's always been about racing for me.
"It took about 24 hours to sail to a regatta in Auckland. So you would sail through the night on Thursday, get to Auckland on Friday, race over the weekend and come home again.
"And if we didn't win, another Tauranga boat may have. The club was definitely there to compete.
"I still race but the style is quite different – if the start line is the Bay of Islands, my wife and I spend two weeks cruising there rather than trying to do it all in one night."
It's about the lifestyle
Gary's life has always involved boats.
"When I was a kid, we lived on Matakana Island, so our car was a boat. To go for a ride in a car with tyres and a roof was special.
Boats even inspired Gary's career.
"I was in 7th form sitting on the side of John Donald's boat, who was a partner at Murray Crossman.
"It was a pretty cool boat, so I asked him: 'how do you get to own one of these?'
"He said: 'if you go and get your accounting degree, I'll give you a job'. Four years later, I knocked on the door with an accounting degree in my pocket – and he gave me a job."
Becoming an accountant came in handy for the club, as Gary is the treasurer. But he didn't end up buying that dream boat – on his own at least.
"I've been buying boats in partnership with the same people from the club for more than 25 years.
"There's about three successful partnerships at the club – they've outlasted many marriages."
Gary says the best part about TYPBC is the people, and the lifestyle that comes with it.
"We've had some exceptional sailors come through. Watching them grow into adults and helping them along the way has been a great experience."
The building
The current TYPBC building opened in 1983.
Gary says it's the legacy his father left behind with his wife, Marion Smith, at his side.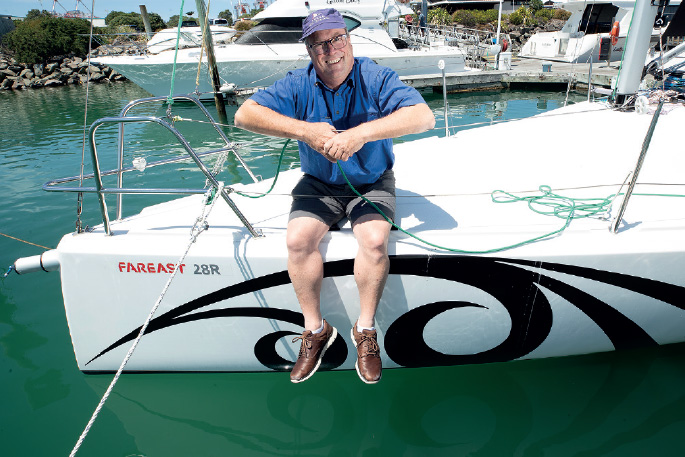 Gary Smith.
"The entire thing was built by volunteers and one paid builder".
"Dad had been in the club for 20 years at that point and had a 'little black book' of people he could call to help."
Wayne, who owned a building business, was one of those people. "Colin would ring up and say: 'I need you to find three people to do this and that over the weekend'."
"We had one young child and were trying to run a business, so I said: 'I'm pretty busy Colin'.
"He said: 'that's why I'm ringing you'."
Several club members were builders and Colin was an engineer.
"Dad was the Matakana Island sawmill manager for 25 years," says Gary.
"The mill burned down in the late 70s, after Dad had finished working there. Some steel remained, so it was used to form the structure of the club building.
They wanted to make the building as big as they could, so they just did – that's why it's 25m by 25.
"That's how it was in those days."
The test of time
Times have certainly changed since the club first started.
Gary believes TYPBC's longevity is thanks to its ability to adapt.
"We've gone from a male dominated club to one of wonderful sporting diversity.
"The club has been a focus on a large number of volunteers, like Wayne and Dad, and that something to be very proud of."