This fine vessel will be remembered by many far and wide as the successful game fishing charter boat operating from Mercury Bay, skippered by the late Captain Don Ross.
Her earlier life included being a control boat for flying boats at Mechanics Bay and involved with the whaling station at Whangaparapara, Great Barrier Island.
Her skipper for a time, Cal Crooks, is now in his 90s and resides at Opua.
He fondly talks of his experiences and shares tales with the new owner Paul Spooner on a regular basis.
Paul Spooner was a neighbour of Don Ross in Whitianga and was inspired by the tales and catches from Miss Lidgard, which obviously was the connection which led to the purchase of the launch many years later.
Fine fisher
Don was popular with many international anglers as his launch was one of the first high-speed game fishing vessels. Some changes were made with the assistance of Howard Pascoe, such as extending the cabin for more shelter for the anglers.
Don's very successful and notable catches were also an added attraction for anglers seeking charters.
He had many fine black marlin catches, such as 769lb in 1981 with his often deployed live baits, with an adaption of the modern day downrigger.
Some rival skippers evidently scoffed that Don was rather frugal in not trolling covering vast distances but he stayed in areas where he had observed game fish and deployed techniques he had devised to catch them.
A notable catch was that of Ken Collier in 1967, who landed the first broadbill for the Mercury Bay Club while slow trolling, at 462lb.
Don had learned from earlier innovators such as Zane Grey and Captain Mitchell (Zane Grey's support boat) who often fished the 'restaurants' (Don gave me one of Captain Mitchell's rod and reels which I still have today).
Several black marlin were also lost after prolonged battles.
The equipment would not compare favourably with some of the reels available today.
Don's advice to the author was: "remain at the restaurant as the marlin will always return".
The restaurant for Don was any offshore reef such as The Sugar Loaf (Aldermen Islands) the inner or outer reef (South of Red Mercury Island, Richards Rock or Ecklands which is North of Red Mercury Island, or Never Fail Rock Northeast of Great Mercury Island).
The new Miss Lidgard
The Miss Lidgard is looking immaculate and can be seen at the Kerikeri Inlet. It is proudly taken to sea by Paul, family and friends.
The workmanship has been a combined effort but special mention must be made to Bluefix Boatworks, Opua Boatbuilders and JB Marine.
"We found Miss Lidgard on TradeMe laid up in Half Moon Bay, Auckland," says Paul.
"Rot was creeping in around the edges and general decline indicated a fair amount of work would be needed soon.
"The double skin Kauri hull was sound and engine appeared to have some life left, so we decided to bring her up to Kerikeri."
She had been modified around 1990 by whoever Don sold her to, where her twin Perkins had been replaced by a single 200HP Volvo and stern drive.
A decision had to be made early on whether to stick with this configuration or revert back to a shaft drive. After much soul searching, it was decided to stick with the sterndrive configuration, the decision mainly being financial.
"We also decided that Miss Lidgard would not be a project of restoration to former glory. Following Don's philosophy, she would instead continue to be modified and adapted to be the best work boat she could be.
"More of a tricked-up fishing weapon than a museum piece!"
Quality restoration
Bluefix Marine in Opua removed the rot, added a cockpit helm station, repainted the hull and generally made her seaworthy and ready for fishing.
A couple of seasons in the Bay of Islands proved Miss Lidgard's pedigree being a fine sea boat and a real marlin magnet!
Opua Boatbuilders reskinned the foredeck, replaced the bowsprit and tidied up the cabin windows, giving her a dry cabin and bilge for the first time in memory.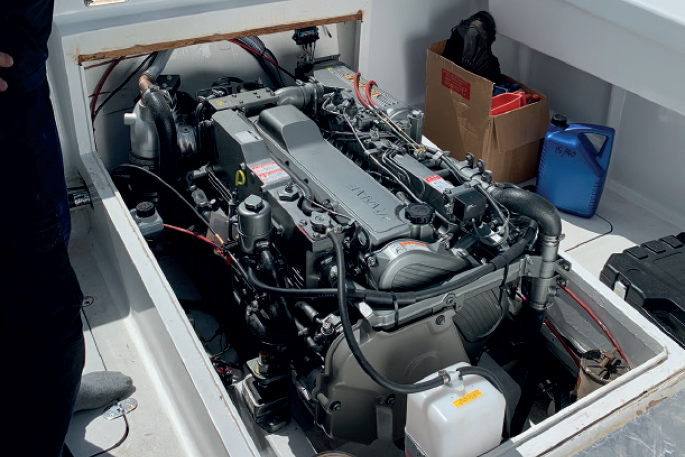 JB Marine repowered her with a new Yanmar 6PL 315hp engine running a Bravo 2 leg, which dropped into the old Volvo bed with minimal fuss.
The photos testify the quality of the restoration.
Miss Lidgard comfortably cruises at 18-20 knots and tops out at 28 knots, which is about what Don used to get out of the twins back in the day.
Recent posts on social media resulted in many who remember the launch commenting positively on her appearance and great times and catches from years back.