Construction on the next phase of the Tairua Marina is about to get underway after dredging of the marina side of the development was completed in early June.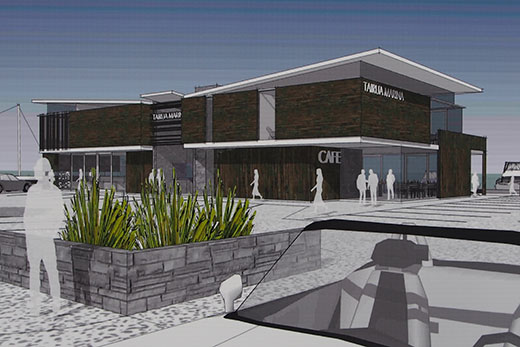 The new marina officially opened at Easter and has since been in use by boats able to access the marina through the channel, which is 1.3m at low water. This is the same depth of the bar, which has also acquired new navigational marks.

"If you can't get over the bar you can't get into the marina," says property development manager for Tairua Marine Ltd, Laurie Flynn.

It's a bit different at high tide with the depth in the channel at 2.7m. Depth in the marina itself is 2.8 to 3.5m.

"There's plenty of room, once you are in there you are fine."

The next stage in the development is the construction of the commercial building, housing marina club rooms, manager's office, restaurant and dive/chandlery shop.

"That's expected to begin construction in the next couple of months," says Laurie.

Laurie says they are currently promoting villas, but won't begin construction until about half are pre-sold, and he's not expecting sales to pick up till summer.

The marina is being developed by Tairua Marine Ltd, with Watts and Hughes Construction and Total Marine Services.