Tauranga lost a renowned sailor and community identity with the recent passing
of Mike McCormick.
It was fitting that Mike was farewelled by family and friends at Tauranga Yacht Club on February 14.
Born in Auckland, Mike began sailing at
the age of two aboard his family's first boat, the Winifred.
He left school at 15 after spending much of his time among the boat-builders at St Mary's Bay (now Westhaven Marina).
This saw him become an apprentice yacht rigger – the first pleasure yacht rigger (as distinct from commercial yacht rigging) in New Zealand - with John Burns Ltd in downtown Auckland.
In 1966 he joined the 12m yacht Rival for the second Auckland to Suva race.
In Suva he joined the 15.2m ketch Windwagon and stayed on for nearly a year, cruising the Pacific.
He left Windwagon in San Francisco and got another crewing job delivering a yacht from New York to San Francisco via the Panama Canal.
While this particular voyage finished in the Caribbean, Mike quickly found other opportunities as crew/skipper delivering yachts from New York and Connecticut to Florida or the Caribbean for the winters.
He also did several trans-Atlantic deliveries, honing his navigation skills.
After a stint in Bristol in the UK working for the Bristol Wire Rope Company, he returned to New Zealand in 1970.
Shortly afterwards he, Bill Belcher and the late Noel Angus founded a rigging business in Tauranga.
Mike later opened his own shop in Tauranga, Mike McCormick Rigging Services, now run by son Scott.
Besides his business relationship with Noel Angus, Mike crewed for him on the one-tonner Mustang and later bought a half-share in the yacht.
Weekend racing
After working all week rigging in Tauranga, he would spend the weekends racing Mustang in Auckland.
He joined the Hong Kong entrant Ceil for the 1971 One Ton Cup in Auckland, and later that year joined the New Zealand team for the 1971 Southern Cross Cup (SCC) which included that year's Sydney-Hobart race.
The following year Mike joined the John Lidgard-designed half-tonner Kidnapper, completing the Half Ton Cup in Sydney as navigator, then the Sydney-Hobart race as skipper/navigator.
In 1975 he was part of a team of top New Zealand sailors who tackled the prestigious Admiral's Cup for the first time.
Two years later he joined Ray Hasler's Jenny H campaign for the One Ton Cup in Auckland, the SCC in Sydney and the Sydney-Hobart race.
New Zealand fielded another team, with Mike as navigator, for the 1981 Admiral's Cup with the late Ian Gibbs' Swuzzlebubble,
Two years later, Mike joined Gibbs for another Admiral's Cup attempt, and raced regularly with him in several Southern Cross Cups, Sydney-Hobarts and Kenwood Cups.
He navigated aboard Pacific Sundance in the 1983 SCC, and two years later navigated for an English team in the 1985 Admiral's Cup, before again representing New Zealand in the 1985 SCC series as navigator.
In all, in addition to four Admiral's Cups, Mike completed 12 Sydney-Hobart races and countless other off-shore and international races.
Vast knowledge
In later years, Mike linked up with fellow Tauranga Yacht & Power Boat Club stalwart Roger Rushton aboard his racing yacht Frenzy.
Roger, a past club commodore, said he had the good fortune to sail with Mike for a decade in events around New Zealand including the Coastal Classic (Auckland to Russell) and the Auckland to Tauranga Easter Ocean Race. "I was proud to have him on board sailing with me."
The pair originally met in 1998 through Mike's rigging business.
Roger says Mike had vast sailing knowledge, gained at the highest possible level. "He had done 200,000 blue water yacht racing miles."
His navigational skills were legendary, says Roger. "With no GPS, he could navigate with a sextant and the stars." He says Mike would give freely of his time and experience to club members at the TYPBC, especially young sailors. "A tremendous bloke."
Mike was responsible for boat handicaps at the club for several years, while also sponsoring numerous sailing events.
In 2018, the Mount Maunganui Yacht Club named its race to Mercury Island the Mike McCormick Regatta in honour of his decades of sailing involvement.
Mike was also one of the longest serving Yachting New Zealand safety inspectors, covering racing yachts and NZ-registered vessels heading overseas.
Salt of the earth
Bruce Goodchap learnt from Mike and became an inspector in the Bay of Plenty 10 years ago. "Mike was well known and well respected," says Bruce. "The salt of the earth."
While calm, Mike was "very black and white", says Bruce. "There was no bullshit."
Mike remained a Yachting NZ chief safety inspector up until 12 months ago. Steve Glover, who knew Mike for 50 years, says "You can't sum him up."
"It hasn't really sunk in that he's gone."
The head of Steve's Marine Supplies in Tauranga knew Mike from age three when his father – Alan Glover – started to sail.
Alan and Mike remained firm friends and met on a Monday with the "old boys" at Tauranga Yacht Club.
Mike handled the rigging on the Glover family boats and later Steve's own vessel. Also sailing with the Glover family, Mike was an amazing tactician and navigator, says Steve.
Steve and Mike also steered customers to their respective businesses. "He was able to teach you (about sailing) without you thinking you were being taught," says Steve. "He was a man who would have forgotten more about sailing than 99 per cent of us will ever know."
Mike McCormick is survived by his wife Maryann and four sons, with four grandchildren. Maryann expressed her gratitude to all those who attended Mike's funeral service, which she said was deeply appreciated by her and the family.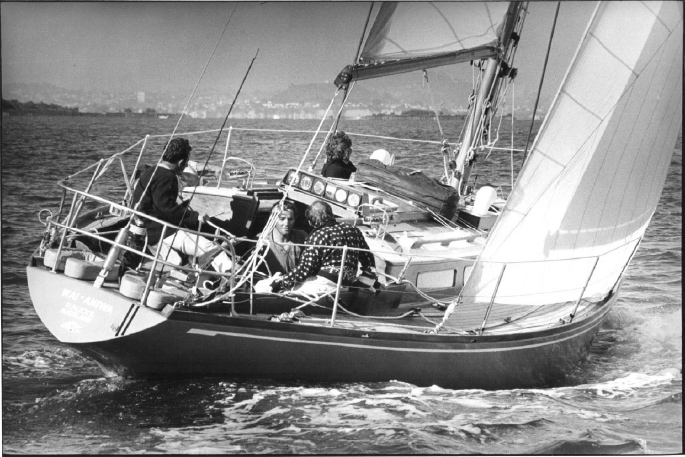 Right: Mike McCormick delivered the Wai Aniwa, which yachting icon Chris Bouzaid sailed to his second One Ton Cup victory in Sydney in 1971. Photo: Royal New Zealand Yacht Squadron.