Kiwis have done it before. Used ingenuity and entrepreneurial talents to create profitable industries from unwanted pests including feral deer, goats and possums. Now attention is turning to a pest of the sea.
The venture to harvest the invasive seaweed undaria from Coromandel mussel farms and create a premium edible export product holds significant promise, but also faces significant obstacles, says Lucas Evans, who is a director of Wakame Fresh, the company behind the initiative.
Undaria or 'wakame' first appeared in New Zealand waters in the 1980s, brought here by cargo ships. It is classified as an unwanted organism under the Biosecurity Act because it competes with native aquatic plants and clogs the dropper ropes of mussel farms. In fact, it is one of nine marine species on the list of the world's 100 worst invasive species.
However, undaria is also an edible seaweed widely used in Asia, Japan in particular, and is most often served in soups and salads. Japanese aquatic farmers have grown wakame commercially since around 710 AD.
Lucas says today's Japanese seaweed market has an estimated annual value of more than US $2 billion and "there's a real opportunity for our Coromandel product to be a high-value offering".
For the last seven years Lucas and fellow director Lance Townsend have been harvesting undaria for domestic consumption. They began exporting salted product to Australia in 2018.
Future funding
However, the most lucrative market is in Japan and now Wakame Fresh has received $75,000 from the Government's Sustainable Food and Fibre Futures Fund to investigate the commercial viability of harvesting, processing and exporting the edible seaweed to Japan where quality wakame is in short supply.
The first project to receive money from the Ministry for Primary Industries fund, Wakame Fresh is contributing $114,182 to the commercial viability test.
Wakame Fresh has also received an invaluable boost to its endeavours from a consortium of two Japanese companies, Kataoka Corporation and Sankou Foods, which have invited Wakame Fresh to participate in a trial to explore the prospect of exporting New Zealand-produced wakame to Japan on a commercially-viable basis.
This invitation followed a visit in October 2018 by CEOs of the two companies and Lucas says the resulting trial is an opportunity to build a relationship with a Japanese organisation that offers in-market expertise and networks.
"The relationship could take various forms, but the importance of a committed local channel partner should not be underestimated. In addition, the trial and the relationship provide an opportunity to access wakame experts and develop a wakame knowledge base and manufacturing capability in New Zealand."
Challenges ahead
Last October Wakame Fresh released the Whakatiputipu Feasibility Report, a year-long study investigating the opportunities and obstacles to the establishment of a successful seaweed industry, not only in the Thames-Coromandel region, but nationally too.
"The feasibility report has led to a rapid increase in our knowledge and understanding of the salted wakame market in Japan and the methods available to produce this in New Zealand," says Lucas.
While the report highlighted the opportunities offered by the Japanese market, where wakame is a popular part of the cuisine, it also identified the significant challenges for New Zealand to overcome – including distance to market, knowledge of production techniques and the market, and competitors with lower production costs and centuries of accumulated experience.
Lucas says one of those obstacles is the cost associated with removing the mid-rib of the undaria, which is an ingredient used in other products but traditionally cut away by hand from salted wakame. This is an expensive process in New Zealand because of the high cost of labour.
Wakame Fresh is keen to find a mechanical solution but so far removing the stem by machine has adversely affected the quality. "We are working to find an automatic solution but in the meantime are factoring in the cost of manual removal into our economic projections."
Winter harvests
To date Wakame Fresh has been a low-key operation, harvesting undaria in collaboration with Gilbert James and David Blyth from Gold Ridge Marine Farm Ltd, who have provided access to their Coromandel mussel farms.
"We only harvest in winter and process the wakame inside a converted shipping container which we have equipped especially for the product."
Supported so far by casual staff, with this year's commercial feasibility trial the company will require more employees.
"We hope to work with local iwi and government to find employment solutions as at this stage paying wages could be a challenge."
The process of harvesting begins when barges lift droppers, festooned with undaria, from the mussel farms. Stripped from the droppers by knife, the top and bottom of the seaweed is cut off, along with any inferior quality leaf. These segments are stored in a separate bin, to be later used as compost.
When a container of undaria of a quality suitable for processing as salted wakame is full, the seaweed is blanched for about 45 seconds in water heated to between 80 and 90 degrees Celsius before being plunged into the first of two cooling tubs.
Vivid green colour
Blanching undaria almost immediately after harvesting turns it a vibrant green colour, a vital indicator of quality and is also thought to influence the texture of the final product.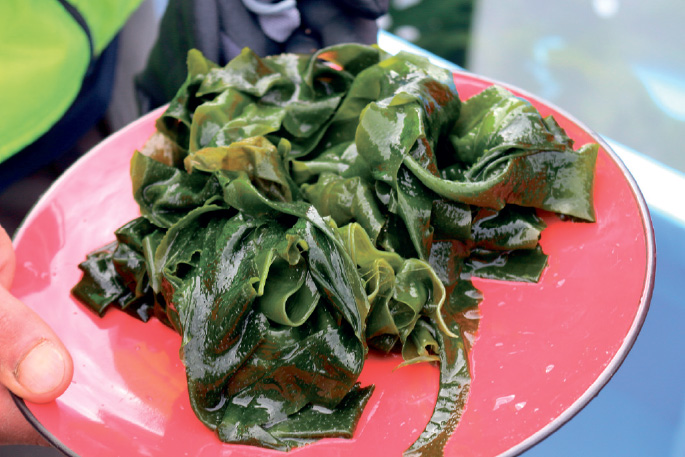 Back onshore the undaria is salted in brine, removed and de-ribbed. The next step is to press the product to remove excess moisture, before packaging ready for market.
Undaria has become well-established in New Zealand waters in both the North and South Islands, and Lucas says even intensive harvesting from mussel farms is likely to be economically sustainable long-term. There is also the future possibility for farming the seaweed if lucrative markets can be established.
The success of Wakame Fresh, and the undaria industry in New Zealand, depends on this country being able to produce a product that consumers in Japan will pay a premium for. A recent development, which may work to New Zealand's advantage, is that the Japanese Government is to introduce mandatory country of origin labelling this year. "Currently, some Chinese wakame, which many Japanese consumers consider as of lower quality, is sold under Japanese branding," says Lucas.
Premium product
Establishing a New Zealand brand as a premium product, possibly supported by scientific evidence from research yet to be concluded, which may show that wakame from its waters is higher in certain vitamins and has less mercury than Northern Hemisphere wakame, may help ensure it receives a premium in the markets.
"It is not yet clear-cut that exporting wild-harvested salted Wakame to Japan is a commercially-viable and sustainable opportunity," says Lucas.
"There are many challenges and hurdles that must first be overcome and much more knowledge and understanding that must be gained.
"Given the track record New Zealand has of innovating to solve problems and develop new aquaculture solutions, Wakame Fresh remains optimistic that we can overcome many of these challenges," says Lucas. To find out more about Wakame Fresh, see: https://wakamefresh.co.nz