Great weekend fishing, and we got some lovely Kahawai. This fish, I find, is best smoked and even better when you have a good man in the house to do that! We love it and the kids go crazy over smoked fish. We ended up making fish cakes and inviting the neighbours over for dinner.


Smoked Kahawai Cakes
1kg potatoes mashed with a little butter, salt and pepper
to taste
2 eggs
Flesh of 3 Kahawai from the bones
Lupi Light Olive Oil
2 Large onions diced
3 Tablespoons fresh chives or Parsley
5 Pieces of crushed garlic
3 Tablespoons seed mustard (I used Dijon mustard)
Salt and pepper to taste
Breadcrumbs

In a pan sweat off some onion until soft and add garlic. Remove from heat and stir in mustard. To the mash potato mixture add the fish, onion and garlic mixture, herbs and eggs. Stir with a little salt and pepper. Roll into mini fish cakes and coat with breadcrumbs. Place in the fridge for 30 minutes before cooking. This will help set the potato mixture and they won't fall apart when cooking. Fry the fish cakes in a little oil until golden on both sides and finish cooking in the oven on 180°C for 10 minutes. I served mine with fresh silverbeet and cheese sauce. We ended up making quite a few so we put the rest in the freezer for another rainy day!
Enjoy!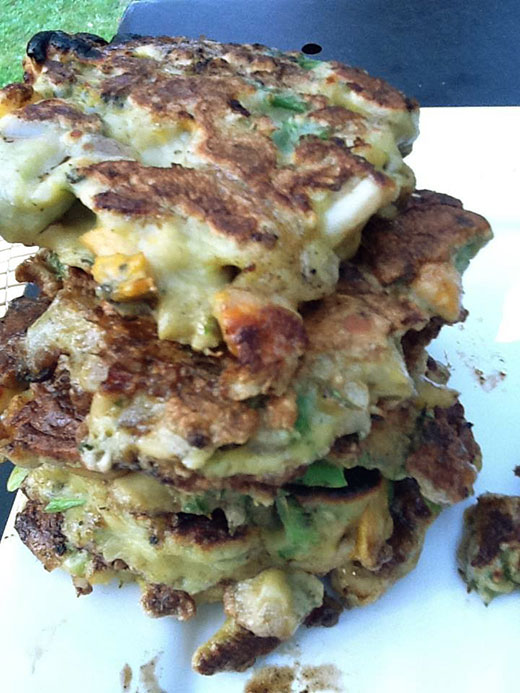 The boys went diving and came back with some whopper mussels among other seafood. I was so excited as I love the fruits of the sea. I have said this time and time again but we really are lucky in New Zealand with our seafood!

Fresh Mussel Fritters
24 large mussels
3 spring onion stalks chopped
heap of fresh parsley chopped
1 red onion diced
3 eggs
flour to bind
salt and pepper
cooking oil

Part steam the mussels, remove from shell, clean and dice. Place in the dish with the rest of the ingredients and mix with enough flour to bind (not to much as you will loose that mussel flavour).

You are looking for a doughy consistency.

Place in fridge for 30 minutes before frying with a little oil.

Serve with a fresh slice of lemon.