Migrating across the Pacific in a hand-built waka with only the stars to guide is a miraculous feat.
Hundreds, if not thousands, of New Zealand's earliest inhabitants reached our shores this way and this remarkable voyaging capability is still on display today, with two waka hourua (double-hulled canoes) having recently taken part in the Tuia- Encounters 250 commemoration.
The event marked 250 years since the first onshore meetings between Maori and Pakeha and a flotilla of Pacific and European heritage vessels sailed around our coastline between October and December. Among them was Ngahiraka Mai Tawhiti, built by the late master waka builder Sir Hekenukumai (Hector) Busby.
This nine tonne, 15.8m long vessel is built from two kauri trees lashed together and can carry up to 12 people. She was launched in 2005 and is now based at Bridge Marina in Tauranga, under the care of experienced waka navigator Jack Thatcher.
"We have a voyaging navigation school that's run around the operation of this waka," he explains. "We've got young students from all around the country who for the past four years have been sailing her every summer.
"We've sailed around the coast of New Zealand and down to the Chatham Islands a couple of times. It's a cool way of getting young people involved in a traditional activity. Young people love a challenge. They enjoy the independence and take pride in caring for this waka."
In 2012 Ngahiraka sailed 10,000 nautical miles return to Rapa Nui (Easter Island) to close the final corner of the Polynesian Triangle – defined by Hawaii in the north, New Zealand in the south, and Rapa Nui in the east. It was the first time the voyage had been completed in modern-day history and the navigators on-board were guided only by the stars, sun, currents, birds and moon.
Jack says the crew of Ngahiraka Mai Tawhiti work in six hour shifts. Everybody has a turn at man-handling the steering paddle (which can be physically demanding in high winds), and there are a wide range of jobs on board which both men and women are capable of performing.
"Someone will navigate, some will look after the sails. Then we've got our cooks, our fishermen, our carpenters. Everybody has a different role. If something goes wrong, somebody has to fix it.
"I always jokingly say that voyaging is 80% boredom, about 15% fun, about 4% exhilaration and 1% absolute terror. If you can get over that 1% you'll be good."
Jack says it can be quite difficult for people if they experience the terror of a storm during their very first voyage. "You get those who you know won't come back, and those who have a look in their eye that tells you even though they didn't enjoy it, it won't deter them.
"A waka is not a nice place to be all the time. It's hard work and you're tired. The fun times are when you have a fair wind that's pushing you along at a higher rate than you expected to be going. If it's great sailing, you don't want to be the guy who goes off course so you have to concentrate a little more. If it's really strong and heavy sailing, then you get challenged."
Jack says steering the paddle comes down to technique rather than brute strength. "I've seen some tiny wee women, who are strong and capable, handle the big paddle better than some big men. It's all about technique when it comes to steering the waka beautifully."
Having said that, he always likes to take a 'Brutus' on each voyage. "A Brutus is a guy who, if we have to anchor somewhere, he's going to pull the anchor up. Otherwise it takes two or three people to do it. You really have to have a crew who can meet all the needs you might have on a long voyage."
Jack was first introduced to waka in 1990 when New Zealand celebrated the Treaty of Waitangi's 150th anniversary. He was given a leadership role in the ceremonial waka celebrations where he met Sir Hector Busby for the first time.
"Word came out he was looking for a crew to sail a traditional waka back to Rarotonga in 1992. I put my name forward and got chosen. I haven't looked back since then."
Jack now runs several wananga around the North Island during winter months to teach people about navigation and traditional voyaging techniques.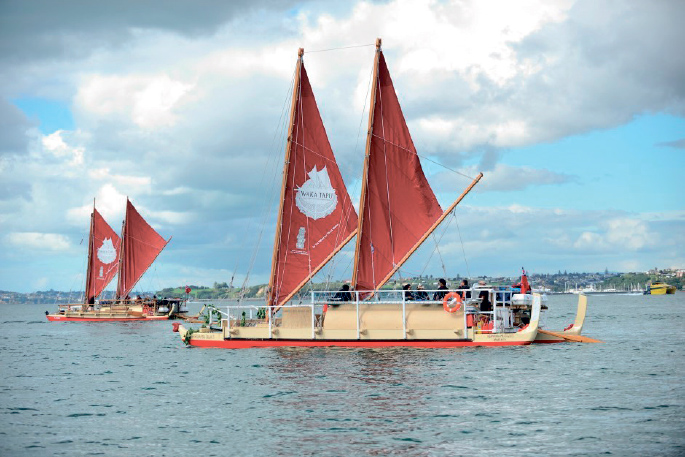 He says the Ngahiraka Mai Tawhiti is a good example of the type of waka early Maori would have used to cross the Pacific and reach New Zealand.
"We think she's a close enough replica of the type of waka that would have come down this way. She might be a little smaller or she might be the same size, who's to know."
Some Maori can trace their whakapapa back to those early arrivals and as many as 150 ancestors can be tied to one waka.
"We see that as proof those waka weren't travelling one way and they definitely didn't make just the one trip. With that many people, it was probably over a few years where that vessel would have gone back and forth."
For more details on the Tuia 250 commemoration, and a description of the vessels that were involved in the flotilla, visit https://www.tuia250.nz/tuia-flotilla/