The Tauranga Yacht and Power Boat Club will celebrate its 100th anniversary later this year and past members are urged to get in touch to help make it an extra special event.
Club vice-commodore Delwyn Keyworth says initial festivities will be held in late September to coincide with the start of the 2020 summer series and will be followed by a big centennial race and 1920s themed ball held at Easter 2021.
"Easter is a good time to come together," says Delwyn. "We want to encourage people associated with the club and past members to come along and stay in Tauranga for a few days to catch up with fellow sailors, share the memories and celebrate our club's history."
"We're going to have a range of sailing activities and include all the divisions of our club – everyone from our youth sailors through to multi-hull, centre boarders, sailboards, keelers, trailer yachts, cruises and our power boat owners. We want to be inclusive of as many people as we can."
Some of New Zealand's most successful sailors including Peter Burling, Jason Saunders and siblings Molly and Sam Meech have come through the Tauranga club in recent years, and the organisation has played a vital role in the community.
Delwyn says Tauranga Moana has always provided safe anchorage and a restful place in its beautiful harbour but has also over the centuries, provided a learning ground for its sailors.
"The TYPBC is very proud to be an active participant in this process, and with reflection over the activities of the last 100 years, we can appreciate the growth and the achievements that the members of the club have been able to obtain."
"This is a club that has been built by people with a common interest, enthusiasm, community spirit, innovation, pure hard work and most importantly a love of being on the water and sailing. It is also a club that encourages all sailors of all abilities and interests and is willing to share their knowledge to grow the sport."
The club has also contributed to the growth of the marine industry infrastructure – the marinas, the haul out facilities, boat building and repair services, sail makers, riggers and chandlery supplies – which has fostered Tauranga's national and international reputation as a hub for sailing.
Past and present members who have old photographs, information or memories they would like to share to mark the centenary are welcome to get in touch. A book is currently being compiled by sailing enthusiast and author Gun Caundle who is researching the club's history.
"The club's origins actually date back to a local barber shop," Gun explains. "There was no regular organised boating competition, so a bunch of guys organised a meeting of interested people at a barber shop in October 1920. They formed a committee and the club was born."
A building fund was set up early on to help secure a base for the club. "A fundraising committee organised social functions like dances and picnics and the club's main committee also paid regular contributions into the building fund. By 1933 they had enough to start and the original headquarters were built where Harbourside Restaurant is now," Gun says.
But when the Harbour Board first started talking about building a harbour bridge, the club realised they couldn't stay where they were. "The keel boats moored in the area wouldn't be able to get underneath the new bridge with their masts and the junior classes were already sailing off Kulim Park."
When land became available at Sulphur Point in 1981, a design proposal for new clubrooms was presented and accepted. "That was certainly a major undertaking for the club. There was one paid fulltime builder but otherwise everything else was built by volunteers from within the club's membership.
"The club was fortunate to have members in many high positions who assisted with the build of both clubhouses. Materials would often just appear and truck loads of fill would arrive thanks to those people who could acquire what was needed."
Delwyn envisions some of the centennial celebrations to be held this September will be water activities beside Harbourside Restaurant to mark the significance of that location. "We hope all the different divisions of the club will come together and do something quite special."
Once plans are finalised, details will be available on the club's website https://www.yacht.org.nz/. In the meantime, old photographs and information can be passed on via email S(office@yacht.org.nz) or by phoning the office on (07) 578 5512.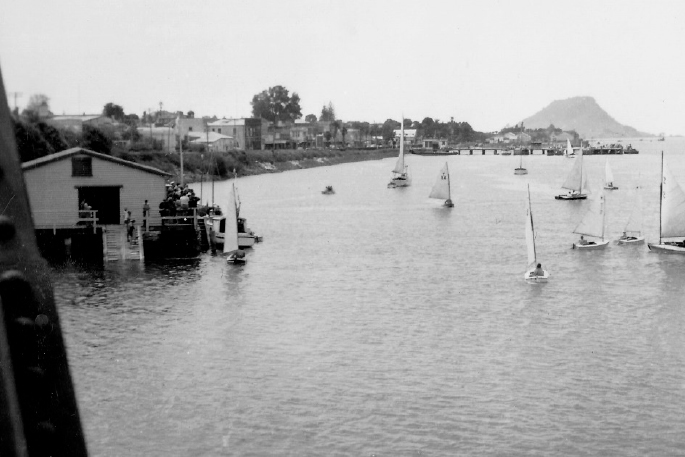 The original club house.