The 2020 Rosemergy Catfish Cull happens at Lake Taupo again this year, in efforts to eradicate or at least reduce the number of the pest fish from the lake.
Each year divers arm themselves with hand-spears and descend on New Zealand's largest lake over the first weekend of February, with the view of eradicating as many of them as possible, taking the opportunity to dive in the clear lake water and sharpen their spears, and their technique as well.
The expectation for the cull is to get more than 350 divers in their wetsuits this time, to see who can take away something from the huge pool of prizes on offer. Thousands of dollars of exciting giveaways are up for grabs with brands such as Cressi, Ocean Hunter, Wettie and more getting in on the action.
A representative from one of these sponsors, Cressi New Zealand, Dean Albiston is also an organising team member. Dean confirms the event is definitely proving popular, with results to match, with over 2500 catfish speared each year – with only one option allowed for participants.
"It's all hand-spears, no guns."
Dean will be hoping for a great day weather-wise too. An increase in temperature also amounts to an increase in catch. Although there are no guarantees and despite what the locals will tell you about the sun always shining over the great lake, the sun is certainly more likely to be shining in early-February.
"Weather makes a big difference. Last year was not the best, however two years ago we got over 4000.
The weather plays a big part in numbers.
The more settled the day is, the more fish come into the shallow water.
Spearfishers can shoot catfish in Lake Taupo any time of the year, however spearing trout is illegal, so much so that if competitors do so, they will be banned from all future competitions.
Luckily for the organisers, the event has backing in regard to the conservation element too.
"We're very fortunate to have the Department of Conservation on board. Catfish aren't a native species to the lake and are a natural predator to the trout we have."
"Having the cull each year helps control the numbers."
The event base is in the popular spot of Motuoapa, at the marina about a 10-minute drive North of Turangi on State Highway One.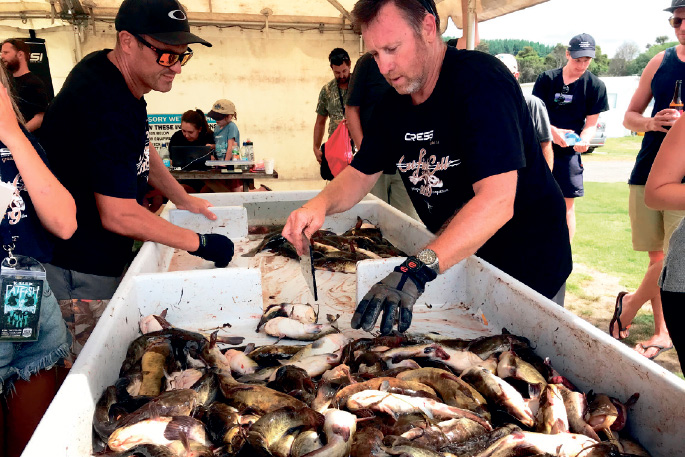 Counting catfish.