Boaties visiting the Mercury Islands are being encouraged to take greater care and responsibility over making sure boats and gear are pest-free.

James Russell with grey-faced petrel chick.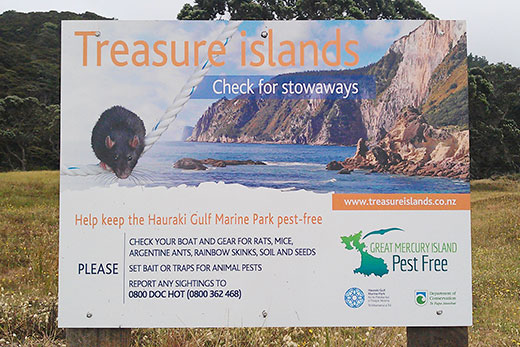 Biosecurity Sign.

With cattle stock being removed from Great Mercury Island at the end of May, clearing the island of rats and feral cats is expected to commence mid-June, weather permitting.

The Department of Conservation and the owners of Great Mercury Island – Sir Michael Fay and David Richwhite – are collaborating in the rats and cats removal programme to make Great Mercury Island safe for native birds, including kaka, kakariki and little blue penguins, plus native geckos, skinks and insects.

The rats on Great Mercury also pose a threat to native wildlife on the six other islands in the Great Mercury group because several are within a rat's swimming distance, and they could again spread from island to island.

Red Mercury, Green Island, Atiu/Middle Island, Kawhitu/Stanley Island, Moturehu/Double Island and Korapuki were cleared of pests in a similar programme in 1995.

Mice can squeeze into a 7mm gap and rats into a 12mm gap, says DOC ranger and project manager Peter Corson.

"Having some form of pest control on board your boat is essential," says Peter.

"It could also save you money. Some marine insurers don't cover damage caused by vermin, so spending $10 to $20 to install bait stations on your boat will help keep Great Mercury pest-free and prevent rats or mice causing thousands of dollars of damage to electrical systems, hoses and sails."

After rats were removed from Red Mercury, Stanley and Korapuki islands in 1995, Peter was involved in moving rare native species between several of the smaller Mercury islands.

"It's a great relief to me that we're securing the safety of the seabirds and native wildlife on all of the Mercury islands by removing rats from Great Mercury," says Peter.

"This is a big job and that's why DOC is working in partnership with Great Mercury's owners to get it done.

"With Great Mercury we've got this wonderfully big island with massive potential once we've made it a pest-free sanctuary for native wildlife," says Peter.

"It's exciting to have the support of the island's owners, the boating community and the public. Together we're doing great stuff – and making Ahuahu/Great Mercury pest-free will mark a real conservation milestone for the Mercury Islands.

"I won't be apologising if boaties can't sleep near Ahuahu in the future, because of the cacophony of bird song," says Peter.

The operation has involved three years of careful planning. It will include precisely-targeted aerial applications of bait using specially-designed buckets carried by helicopter. The helicopter pilots use satellite navigation (GPS) technology to ensure the bait is spread only where intended.

There will be two aerial applications of bait on Great Mercury, each lasting about three days. The public will be kept off the island during the drops. People on boats need to stay 200 metres away from the island's coast during the drops, to ensure they and the pilots stay safe.

DOC has used aerial applications of bait to safely and successfully remove pests from more than 60 islands. This includes Tiritiri Matangi, Little Barrier/Hauturu, Motuihe, Rangitoto and Motutapu in the Hauraki Gulf Marine Park. These islands now provide safe, pest-free havens for endangered wildlife.

For example Motutapu – which is 30 minutes by ferry from downtown Auckland – was declared pest-free in August 2011. It now provides a safe home for 21 critically endangered takahe, of only 260 recorded.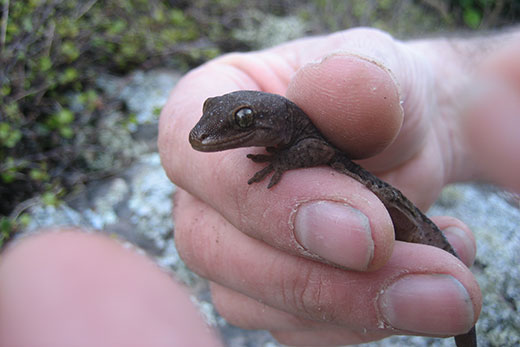 Common gecko on Great Mercury.