Volunteers from the Bay of Plenty took out five of seven awards at the Coastguard New Zealand Awards of Excellence recently.
The annual ceremony recognises the dedication of Coastguard volunteers to saving lives at sea, including the rescues carried out on the water and the work that goes on behind the scenes on land.
Volunteers from Coastguard Maketu, Coastguard Opotiki, Coastguard Waihi Beach, and Coastguard Whitianga all won awards.
Susan Lean from Waihi Beach took home two awards, including the supreme award of Hutchwilco Volunteer of the Year.
Susan was recognised for dedicating more than 2000 hours of her time to Waihi Beach in the last year, a true reflection of her enthusiasm and commitment to the job. By using her expertise in computer programmes and software, Susan is a key force in implementing new systems within the unit.
Alongside her technical prowess, Susan encourages a unit culture that is collaborative, inclusive and professional. It's this leadership which has ensured all unit members have a voice and are part of a supportive environment.
"Susan continually puts the needs of her fellow unit members before her own," says Coastguard New Zealand President Mike Purchase. "In the busy summer months, she works alongside her fellow unit members to help them do the best they can and foster a positive working environment."
"Susan's keen eye for improvement, coupled with her genuine care for those she works with has seen her improve how the unit works to the benefit all those who are part of it."
Coastguard Opotiki won the Community Relations Activity of the Year for their open day they held in January to coincide with Coastguard's Old4New Lifejacket Upgrade Campaign being in the area. With community engagement at the forefront, the unit organised a day where local people could view and interact with Opotiki's Search and Rescue organisations and safety services.
The open day brought Coastguard, St John Ambulance, New Zealand Police and the local Rescue Helicopter together to emphasise the importance of water safety. A large influence behind the creation of this event was a recent Water Safety statistic showing the high number of drownings in Maori and Pacific Island groups. As more than 50% of Opotiki's community is made up of this 'at risk' group, Coastguard Opotiki used their influence and resources to assist in changing attitudes around water safety.
Community and safety were also key motivators over the last year for the Coastguard Unit of the Year, Maketu.
A key example of this was the installation of a 24/7 webcam on the Kaituna bar which Coastguard Maketu worked with the Harbourmaster to provide to the local community. The unit is also dedicated to empowering its volunteers with unique training opportunities that build confidence and skill, including Youth in Emergency Services and Search and Rescue training with neighbouring Coastguard units.
Coastguard Whitianga won Rescue of the Year for executing a challenging rescue of a 24ft yacht with two people on board, that was in serious trouble between Cape Colville and Opito Bay. Drawing on years of experience and supreme navigation skills, the Duty Officer and Incident Management Team were able to decipher the puzzle that was locating the yacht. Constant communication with the yacht and a well thought-out response plan, endorsed by the police, resulted in Coastguard Whitianga's rescue vessel, NZCT Rescue, reaching the stricken yacht in under two hours with the two people on board confirmed safe and well.
"These annual awards are an opportunity for us to stop and recognise the incredible and noble efforts of these very special people," says Mr Purchase.
"The unwavering commitment of our volunteers to each other, Coastguard, and their communities is truly humbling. While they think of themselves as ordinary people, their actions are nothing short of heroic."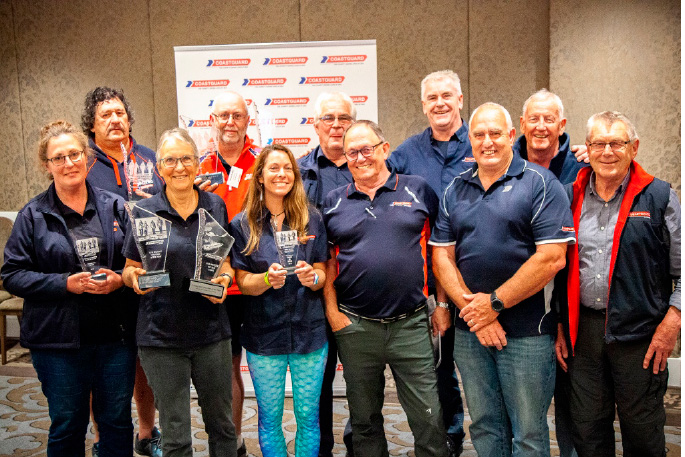 The Coastguard Award recipients from Bay of Plenty.