The view from Mal Evetts' window is one of the best in Whakatane – but his role, and that of his co-workers is not to enjoy the scenery, but monitor the safety of those who cross the Whakatane bar or are at sea.

The coastguard's rescue vessel Whakatane Rescue ll in action.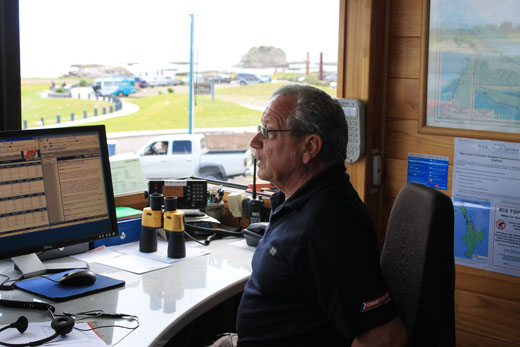 Radio operator Mal Evetts, on duty at Coastguard Whakatane.
Mal is a radio-operator with Coastguard Whakatane, a role he's held for 10 years – and during that time he's been involved in many rescues as one of the Search and Rescue coordinators.

He's part of a team which includes three paid radio-operators, up to 20 volunteer operators and four volunteer crews, each with five to eight men and women who man the coastguard's rescue vessel Whakatane Rescue ll.

From their headquarters at Whakatane Heads, radio-operators have a clear view of the sometimes dangerous Whakatane River bar, but boaties can see exactly what they are viewing too – by logging onto the Coastguard Whakatane website and watching the bar in real time, from a camera installed in the watch house.

"I advise anyone planning to go boating at Whakatane to check our website for forecasts and warnings and view the video of the bar, so they can make an informed decision on whether it is safe to set out," says Mal.

HarbourCam is provided by Coastguard Whakatane and Surtees Boats, and gives an indication of the conditions at the river entrance. However, Mal says any boat operator in doubt of the exact conditions should consult the Coastguard duty operator phone 07 308 7110.

The bar entrance has recently been dredged by machinery, operating from on top of a rock groin, but at low tide still remains shallow and conditions can be rough.

While operators can see what's happening on the bar in front of them, they still advise boaties to radio the coastguard before they cross the bar, to report the number of people on-board, and ensuring everyone is wearing a lifejacket.

Coastguard Whakatane also recommends all vessels intending to depart or enter across the Thornton, Opotiki and Ohiwa bars advise of their intention to do so prior to the crossing.

Coastguard Whakatane will log the call and monitor the vessel. Once safely across the bar, the vessel reports its safe crossing. If no safe crossing report is received by Coastguard Whakatane within 10-15 minutes, the vessel will be called on VHF 80 and VHF 60 to confirm the safe crossing. If the safety of the vessel cannot be confirmed an "all stations" call will be made; and the matter will be referred to a Marine SAR Advisor and the Police.

Coastguard Whakatane has three part-time radio operators employed for weekday manning of the radio communication centre, while weekend and holiday manning is carried out by volunteer radio operators. The Communications Centre is open each day, 8am to 6pm hours, seven days a week, 365 days a year. Radios are operated on SSB channel 4417 KHZ for long distance coverage and on VHF channel 80 for the general Eastern Bay of Plenty area. During a typical year, the Whakatane operators log some 30,000 calls.

The aims of Coastguard Whakatane is to promote boating safety and awareness through education and the use of proper procedures, to provide radio communications for members and to arrange and co-ordinate rescue services at sea when required.

The area covered by Coastguard Whakatane extends out beyond White Island and covers a large part of the Eastern Bay of Plenty, which includes three sea access areas; Whakatane River entrance, Ohiwa Harbour and the Rangitaiki river entrance at Thornton.

In 2008 a major investment was made to improve radio equipment and a new computerised system was installed based on VOIP technology. This new system established by Coastguard Whakatane made it possible to communicate with vessels from Coromandel to Hawke's Bay and including Lake Taupo and the Rotorua lakes. Whakatane is now the radio centre for the whole of Coastguard Eastern Region. This new technology is so successful it will be rolled out throughout New Zealand in coming years. During the hours they're not manned (6pm to 8am) Coastguard Northern Region has a copy of the system and monitor, and reply and log all of the Central Region calls during that time.

Coastguard Whakatane has four Marine Search and Rescue Controllers, who take control of any marine Search and Rescue (SAR) operations in the area. In major emergencies they work in conjunction with the local Police and the NZ Rescue Coordination Centre in Wellington, handling local communications and activities. When necessary, Coastguard Whakatane also works closely with Coastguard Tauranga, Maketu, Opotiki, Whakatane Emergency Response Team and Ohope Surf Life Saving.

To find out more about Coastguard Whakatane, go to www.coastguardwhakatane.co.nz or view conditions at the Whakatane bar on www.coastguardwhakatane.co.nz/whakatane-harbour-cam