There she sat in Parapara Bay at Great Mercury, basking in the orange glow of a perfect Coromandel sunset. Thirty feet or so of well-travelled kauri, oozing a thousand stories of coastal seafaring.
The old launch is a familiar sight in the waters of the Coromandel and Bay of Plenty – but this day it's the name that catches my attention. Waitanguru. It's a name from my forebear's region, down Te Kuiti way. Could there be a connection, or is it coincidence? Whatever, it's a good enough reason to row over for a yarn.
Aboard this fine old warrior of the waves we find Les and Pam Porter and their crewman, Roger Hawkes.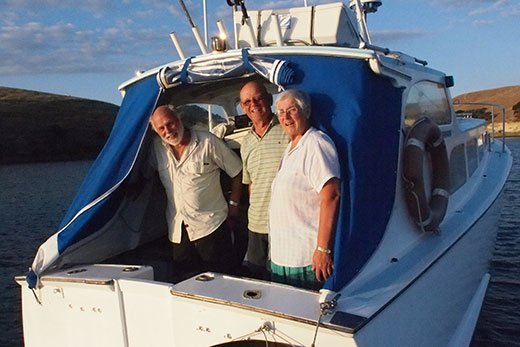 Roger, Les and Pam enjoying another perfect Coromandel sunset, one of many Waitanguru has witnessed.
A couple of questions, and it's like someone has pushed the play button on the History Channel. And a fine and intriguing history it is.
The Porters, based in Tauranga, run Deep Water charters with Waitanguru. Les Porter's background is aviation, aerial topdressing loader driver, then being a topdressing pilot for 21 years in Taranaki and Wairoa. He was general manager and chief pilot of Air Transport Division of Cookson Airspread Ltd for 14 years.
Then came the charter skipper seachange with Waikare II, Simon Dickie adventures in Taupo; and Pam as deckie and hostess in the late eighties.
Les was Taupo's deputy harbour master from 1988 to 2002 and harbour master from 2002 to 2008.
These days, he's a nautical consultant and semi-retired charter skipper, with the lovely old launch Waitanguru.
Sixty-three years old and still in survey, the launch boasts many thousands of sea miles under her keel. She's of quarter sawn kauri, cut, milled and stacked in 1945.
The hull is built by Allen Williams of Milford, Auckland, in 1950.
Around then, the price of kauri is tipped to skyrocket in price so Allen sells the hull and purchases a significant amount to complete two or three hulls, one of which one was his own, Banshee, to replace Waitanguru at 29 foot (8.7 metres) at waterline.
Waitanguru is purchased by Pete Peterson of the Waitanguru Farm at Piopio near the Waitanguru Falls, in the Te Kuiti area, and is completed by Pete, and Gerry Dawson under the supervision of Allen at his yard.
And that confirms my suspicions of an old family connection. The Petersons were sharemilkers on my dad's uncle's farm (Ed Buckley) and Peterson later bought the farm.
Pete owns Waitanguru (the boat) for some 20 years then sells her to Gerry Dawson, his fishing mate over all the years. He sells (on medical advice from his doctor) and then continues to carry on boating and fishing with Gerry for a few more years. Some of the history from here is a bit sketchy, but it goes something like this:
Gerry sells to Ian and Helen Anderson from Whangaparaoa who run her for a short time in the eighties, then she passes into ownership of Tony Atkinson in Northland, who after about four years, sells to Ken Mackie of Whangarei in 1991.
Ken Mackie retires from farming and moves to Taupo, where Les Porter, then the deputy harbour master of Lake Taupo, allocates Ken a berth.
Les is on site the day Waitanguru arrives.
"I observe its profile as it is swung into the water by the crane and think to myself 'what a fantastic looking vessel, and what a waste to put a vessel like this on Taupo, it belongs in the sea'."
Four years later in March 1996 Ken is somewhat disillusioned with Lake Taupo and decides to move over to Australia with his wife.
Les makes him an offer for Waitanguru and after some time, and close to their departure, he accepts.
"My wife Pam, son Richard and I become the proud owners of Waitanguru.
"I carry out a lot of work on her, enter the annual Mighty River Power fishing competition (a weekend event in April), Pam and I achieve first equal with three other boats for the first time in the long running competition. It was not won outright so a draw out of the hat saw Richard Steins of White Striker fame become the eventual winner of the major prize."
In October 1996, Waitanguru is fit for the sea once again and is transported to Tauranga where it is today. Pam and Les bought out their son's share, and continued its upgrading and ongoing maintenance.
Each year, it has been improved on the year gone. "It has been repowered and brought into survey under Safe Ship Management (commercial survey) and is operated by myself as a charter boat in the survey area East Cape North Cape out to 12 miles," says Les.
Currently she runs with a 39hp Yanmar, an upgrade from key to prop. The three cylinder diesel was fitted new in 2005, her fourth engine.
"The first was a 27hp old lifeboat engine then a 50 Ford, followed by an upgrade to a 62. That was in it when I took her over in '96 it had 6000 hours when we replaced it."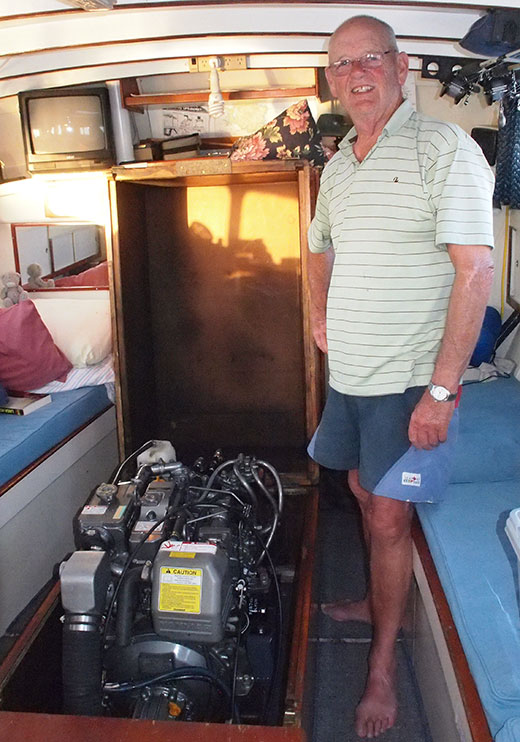 Waitanguru's worn out three engines in her six decades. Les pictured with the 39hp Yanmar.
Waitanguru has up-to-date navigation equipment and is fitted with remote anchoring and auto pilot, says Les.
"We take her to Great Barrier Island each February for two or three weeks and this year she did her 12th trip up and back from Tauranga."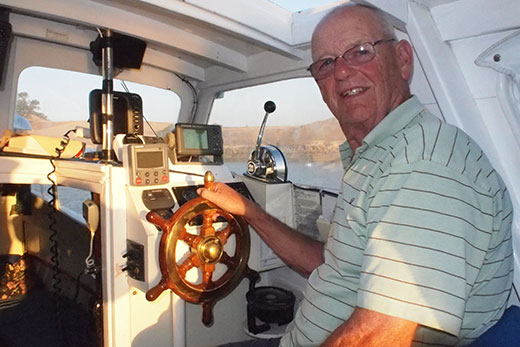 Les Porter at the wheel. Waitanguru now sports a few modern conveniences.
"Roger Hawkes a boat builder who did his apprenticeship with Alan Williams is a family friend and assists me with major maintenance tasks (I should say I assist him) he has taught me heaps about wooden boats.
"Roger did his first trip on Waitanguru when he was 12 years old and many others since then in the early years. He again travels to the Barrier with Pam and I and has been aboard all but one of our Barrier trips. You can say that Roger has a very long relationship with the 63 year old Waitanguru.
"When we acquired the ownership I was intrigued with the name Waitanguru. I spoke with many Ngati Tuwharetoa elder and after sometime they advised that it meant Deep Water which is how the name Deep Water Charters came about.
Roger Hawkes has a long association with Waitanguru.
He says at the time of launching, the first engine was out of a ship's lifeboat.
"I started working for Allen Williams sweeping the floor and doing odd jobs after school from the age of 13 (1958) and at this time Waitanguru was tied up at the end of the wharf beside the slipway in the Milford Creek. This was prior to the Milford Marina.
"I first went out in Waitanguru that year with Allen and his wife, Jessie, to Great Barrier. In those days it was a long way offshore for vessels of that size. The engine at the time was a four cylinder Ford diesel."
The ship to shore radio at the time was a large size Marlin, also the depth sounder, recalls Roger.
"Before the Marlin radio, the boat was fitted with an Army ZC1. Neither radio was very reliable, and because of this, Peterson didn't use the boat as much as he could have. I guess he felt safer when the radio was working. It was generally at these times that Allen and Jessie went away in the boat and I was very lucky to be able to go with them."
"I remember sitting inside the boat and it rolling over that much at times that the water on the low side was half way up the windows.
"Many years later, when I was an apprentice boatbuilder with Allen, most of the launches were powered with Ford diesels. Different people would ask Allen how he liked the engines and how they run. Allen would reply that the only way he hadn't run them was upside down."
Roger recalls Banshee, also designed and built by Allen in the yard at the time, powered with a Ford 120hp.
As the last of the sun's glow seeps from behind the Coromandel ranges, Waitanguru glows at anchor in the Bay. Her classic lines a reminder of the seagoing qualities Les recognised, hanging from the crane over the lake many years earlier.
Waitanguru: A fine example of the boats and the people who make up our region's rich coastal cruising heritage.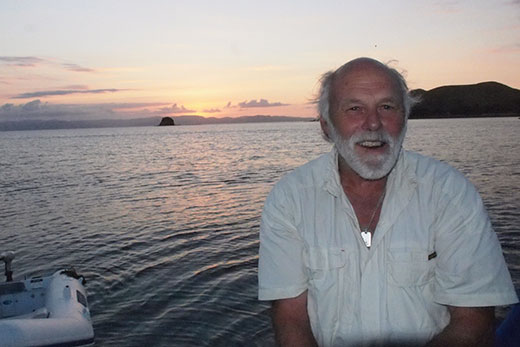 Roger Hawkes took his first trip on Waitanguru when he was 12.