During the last few months we've been anticipating the arrival of the 196FS Sport Boat at Pinnacle Marine in Tauranga.
And as promised, owners Geordie and Kirsten Nicholson called us as soon as the tides and weather aligned for a perfect afternoon on the water.
Having already reviewed other models in the Monterey range with their award-winning design and futuristic cock-pits, we had high expectations for the 196FS – and we were not disappointed.
The Monterey 196FS Sport Boat is designed for those who prefer action-packed days on the water and bowriders by their very nature are made for maximum enjoyment of the elements –set up for wakeboarding, skiing, towing or enjoying maximum UV exposure.
The 196FS is one stylish bowrider that puts the "sport" in sport boat, however this model comes with a twist. If you fancy a bit of fishing as well as your more active watersports, then this is the boat for you.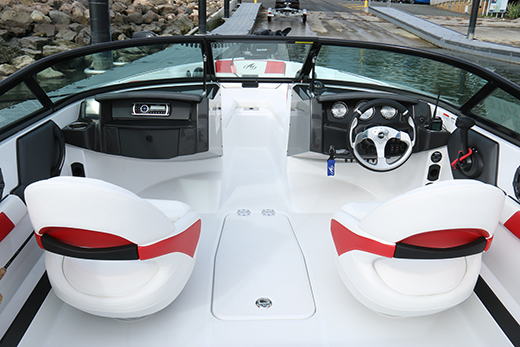 With the fishing package added you get a live-bait tank, special seats both front and rear for fishing off the bow or stern, a standing cast platform upfront, inbuilt horizontal rod holders and even an optional Motorguide wireless electric engine. These boats are actually now being used in the United States in pro bass fishing contests.
With its aggressively sporty attitude and two sun worshipping cockpits, the Monterey 196FS Sport Boat is best suited for the young at heart, mind and body. This stylish, perky bowrider was designed primarily as a tow vehicle for wakeboarders, skiers or those who fancy hearing their children beg for mercy hanging on for dear life to the ski-biscuit in a high-speed U-turn. Now with the added benefit of being a serious fishing platform it really does offer the best of both worlds.
With uncompromising and elegant style the 196FS Sport Boat includes standard features like multiple stainless steel cup-holders, a fantastic sounding entertainment system by Jensen, a swim ladder for easy boarding access and plenty of bow area seating and storage throughout. The 196FS is a powerful and chic performance machine, sure to make your friends and neighbours envious!
The Mercury MerCruiser 4.5L 200hp inboard sterndrive engine is unbelievably quiet and smooth. It is so much quieter than an outboard option due to the high-tech dampening in the engine bay. Introduced by Mercury in 2014, this is brand new marine technology purposely designed for marine environments. The 4.5L 200hp sterndrive was designed and is manufactured at Mercury Marine's world headquarters in Fond du Lac, Wisconsin.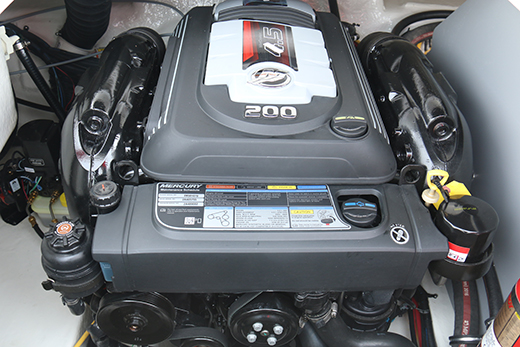 The 4.5L is the first of its kind, creating new standards for acceleration and overall performance with design innovations such as a long runner scrolled intake manifold and high displacement, which produces an outstanding power-to-weight ratio.
The 4.5L V-6 also offers Adaptive Speed Control, which automatically maintains the set rpm point regardless of load or condition changes, such as tight turns, tow sports and lower speeds on plane. Mercury Marine built the ultimate anti-corrosion protection system into the 4.5L V-6, using durable cast-iron componentry wherever the engine encounters seawater, and corrosion-resistant aluminium and composites everywhere else. Digital rather than analogue sensors are used throughout.
Geordie says: "The inboard configuration means more useable space in the cockpit too with a back-seat that stretches across the entire beam of the boat".