This is the story of Bob the Barge. He's not your average barge. Bob started life as a sailing catamaran; an unfinished project. He'll probably end up sailing again one day – but in the meantime, he's got a real job to do.

2.7 tonnes of wharf piles and concrete.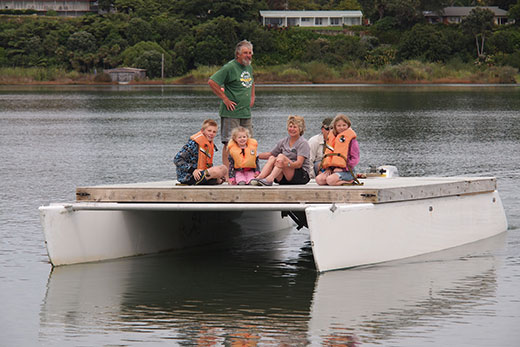 Early sea trials with our expert test panelists.
We bought Bob, knowing a bit about his hulls, as I'd helped build one of them during a Derek Kelsall foam sandwich workshop quite a few years ago.

The 26 foot hulls are vacuum-bagged flat panels of foam and fibreglass, with the underwater curved sections left un-glassed until each of the two halves were joined together, opened up like an envelope and then shaped and glassed over.

It's a great system, providing gel-coat, glass-flat sides; and the only fairing required is on the underwater sections. Fast, light, efficient on resin, a good finish above the waterline and reasonably easy for the home builder.

Our search for a small barge came from the need to transport a variety of things across Whitianga Harbour to the family's water-access-only block of bush. General commuting is by pontoon boat, but we needed a flat deck to carry things such as timber, roofing materials, orchard gear and a quad bike. None of those go particularly well on a standard boat. We were also involved in a joint venture with neighbours, getting consents for a jetty, which eventually took six-and-a-half years. That's another story for another day.

In the past, we'd borrowed the local oyster farm barge and it was great, but we couldn't go on bludging every time we needed a load carted.

We considered aluminium barges, but they were costly, in the region of $30-40K. Fine if you're using them every day, but we couldn't afford or justify that sort of outlay for a barge to be used spasmodically.

Then we looked at modular pod systems, such as Pontoonz, which seem like a great idea. For the minimum size we required, outlay would be about $5000 plus some substantial timber framework, and decking on top.

Then Bob popped up on the radar. Here was an opportunity to get some really nice slippery hulls, for all up less than the price of building from scratch. Plus the base set-up could be used for day-tripping and party barge on the harbour – and still reverted to "yacht" status, when the bush block and jetty development work was over.

So Bob was bought unfinished and his sailing gear stowed in the shed for the meantime.
A ply and pine beam deck was constructed, using Bob's sturdy arms built into his hulls.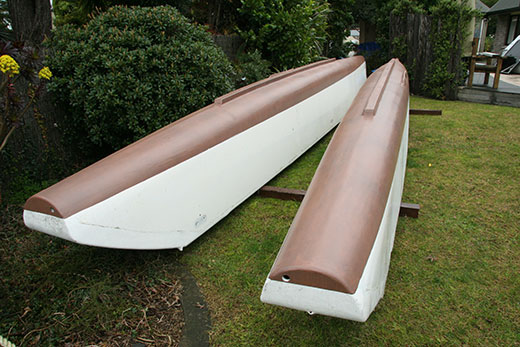 Coppercoat super long life hard antifoul.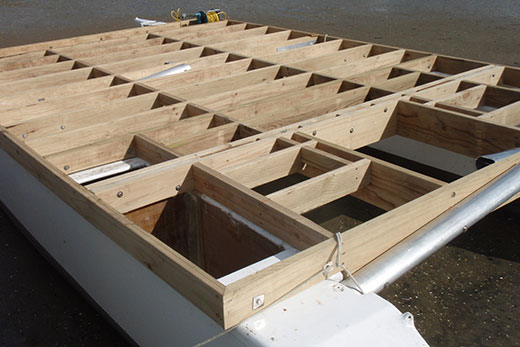 Built to take a load, the deck under construction.

Beefy Bob
The deck was made pretty beefy, since it would be expected to carry at least a tonne, with the Polaris alone weighing in at 600kg.

Originally, we were going to set him up with a single, centre-mounted outboard, maybe a long shaft high thrust Yammie 9.9 or similar. But there were problems with that concept. Firstly, it meant having a motor sitting around, out in the weather, being unused for a large part of the year.

So we went off the idea of Bob having his own dedicated power.

Then it was decided we could just use Bob as a dumb barge. (No offence intended, Bob). We'd just tie alongside and "barge" Bob around. However that would mean Bob's use would be confined to calm days, as a few test runs found things got a bit lively in a 2ft chop and a 25knot sou-wester. And it didn't really work for the party barge concept. Nor did we fancy undertaking the coastal voyage to deliver Bob from his mudflat building site in Tauranga, across 60 miles of open Pacific coastline, while tied alongside a pontoon boat.

So that idea was scotched. Then, in a eureka moment, we decided we could 'dock' a small boat under Bob, latch them together, and effectively Bob would be under his own power and manoeuvrability while connected.

The first trials were with an older fibreglass boat with a newish Honda 20hp. Bob's undercarriage was adapted to fit the shape of the little boat, several latching points established and a trailer winch used to hoist the little boat up into place under the barge.

The driver position was located conveniently through a deck hole. It worked perfectly. With the small boat secured in place, Bob could burn around at an easy 8-10 knots, un-laden. Many sea trials later and the docking system was refined and perfected. However there were some concerns about the suitability of the old fibreglass boat, and whether it would handle the pounding. It also relied on a bilge pump to deal with any water coming in. Anyone who knows anything about cats will attest to the "washing machine" action that goes on between two hulls in a rough sea.

Stabi meet Bob ...
So a deal was cut with the whanau, to ditch the fibreglass boat, put the family 1410 Stabicraft under Bob instead, and fit it up with the 20hp Honda.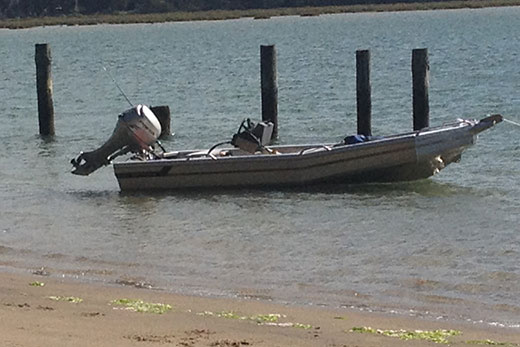 The Stabi-craft in regular boat mode.

Measurements showed the 1410 was an almost perfect fit for the barge. Although bigger and heavier than the first little boat, and with a lot more wetted surface, the Stabi's benefit was its ability to self-drain; and it's a much more useful boat when not employed in barging.

A major part of the task was having built a customised rise and fall helm station; not a centre console as such, but the steering wheel and throttle on a simple column that could be pinned in the stand-up position, through the access hatch in the barge deck – then dropped to sitting position in the Stabi when it's used as a normal dinghy.

Mastertech Marine at The Lakes in Tauranga handled the supply and fit-out of the Stabi and worked with G-Fab in Maleme St to nut out the rise and fall helm position. Prescott Trailers whipped up a fantastic trailer, with a few special mod-cons, including side posts to help with beach landings and to aid backing visibility, especially when the trailer is un-laden. Prescott also came up with an axle adjustment system, whereby the position of the axle can be moved, fore or aft, to account for any future changes in weight distribution, such as change of outboard.

After many sea trials in Tauranga, and the neighbours starting to think Bob would never make it to Whitianga, the docking Stabicraft system was perfected and Bob was deemed ready for service.

This coincided with the final okay, after six-and-a-half years, on the jetty project; so Bob had his marching orders. Weather patterns were watched carefully for a few weeks, then a good window of opportunity presented itself in mid-November. No swell, 10 knot variable offshore breezes.

The journey
I press-ganged Tony 'Gilligan' Breeds into the crew; we rounded up a heap of safety gear, EPIRB, VHFs, flares, fuel, a chilly bin loaded with refreshments and supplies, bean bag and a couple of deck chairs – and we set sail from Te Puna on a perfect Tauranga morning, bound for Whitianga.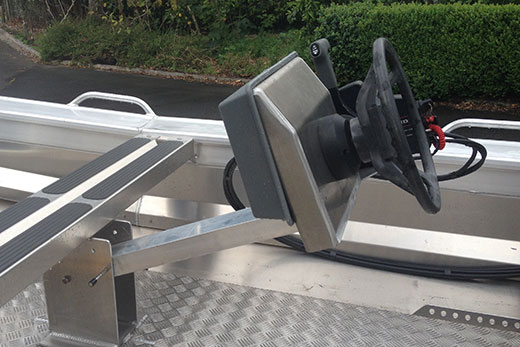 G-Fab's rise and fall helm station.

The Stabicraft, being larger and heavier than the original docking boat, meant we lost a bit of speed, but the safety and strength factors were a no brainer. Loaded, the barge cruised at 7 knots; and in no time we were through the middle of the Tauranga Harbour shallows and on our way to the Bowentown entrance. It was a pussycat on this day, and we rounded the heads and steamed along the coast, enjoying the scenery and relaxing on the expansive decks of Bob's generous cargo area.

The miles rolled by, the crew taking shifts of helming Bob, sleeping in the bean bag and partaking of at least three lunches. Most of the trip was uneventful and flat, with only a bit of chop off Shoe Island and a bit of a slappy headwind, the breeze and chop notching our progress back a knot or two.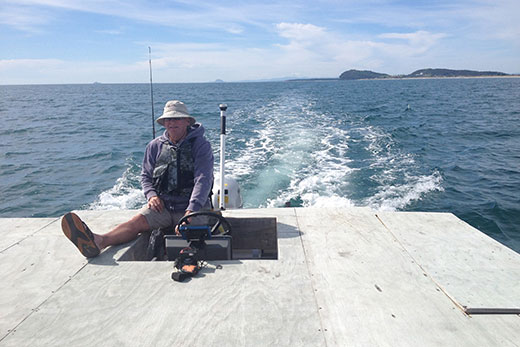 Gilligan en route.

Bob took a few waves over the front beam, but nothing to get excited about. Soon after we rounded Hahei into Mercury Bay for the home stretch. After nine- and-a-half hours, Bob slipped quietly into his new hometown. The voyage averaged about 6 knots, used less than 40 litres of fuel and a six pack of woodies.

Mick and Neil, the shore crew, arrived on cue with the Stabi trailer. Bob was delivered to his new moorings, the latchings undone and the stabi's stern winched down – and the Stabi bobbed out from underneath. Back on its trailer and towed away – a very satisfying moment after a few years of scheming, head-scratching, trials – capped off with a hard case, epic coastal trip.

Since then, Bob the Barge has been hard at work. He's carried massive jetty piles to the site, cross beams and deck timber, pallets of concrete, shed portals and building gear.

Our biggest load so far is 2.6 tonne. Bob lost a bit of freeboard that day, but the handling was impeccable. The docking system works like a dream, and the Stabi-craft is a fantastic little runabout in its own right; the family enjoying its easy launching and handling, easy enough for any of the family to whip out for a feed of fish.

Bob is yet to have his first party barge engagement; but come the end of the jetty project, there is bound to be some celebrating and he'll be in the thick of it.

Many thanks to supporters: the indestructible Mr Honda, Mr Stabi-craft, Karl and team at MasterTech, G-Fab, Mac MacKinven, John and the guys at Prescott Trailers; Mac, for his patience and boat building assistance; the best crewman in the business, Gilligan Breeds; and the shore team Mick and Neil.