The summer cruising season is well underway with some stunning bursts of great weather.
Boaties in the Coromandel and Bay of Plenty have enjoyed mainly fine conditions, although water temperatures seem to be a little slow to rise in the New Year, to the disappointment of the game fishing fraternity and the surprise of a few divers. Despite this, there have been some great catches of excellent tuna and gamefish out wide and some stunning fish weighed in at Whitianga early this month.
From all accounts the snapper fishing in Tauranga harbour has been fairly steady, while further north around the peninsula it seems to have been a bit patchy.
The Waterline crew undertook a couple of missions north around the Mercs in the early New Year.
The scallops were rumoured again to be fatter and more plentiful in Opito than Home Bay, but by the second week of January, our sources report the Opito beds had taken a hammering and some divers were struggling to find their quota on some days, even out to 70 feet. Not surprising when you see the number of boats congregating through the bay on occasions.
Talk around the bays was that the dredging was fairly ineffective a lot of the time, the scallops were laying deep in depressions and the dredges skimming over the top.
Our experience of a couple of dives in Home Bay found reasonable numbers but the size continues to lack that of previous years. A few already seemed to have spawned. The early season divers are no doubt getting the best of the biggies, but in my opinion the condition is usually a bit lacking till around new year when they tend to fatten up more. Still, it's a pleasant way to collect these treasured delicacies and this year was particularly rewarding, with some of the younger family members joining me for a scuba dive.
There were signs of a lot of disruption from dredging and many areas of broken shells, some of them quite small, which is a concern and perhaps it's time the practice of dredging was examined; or the methods and types of dredges investigated more thoroughly. Personally, I think it should be banned.
Again we witnessed dredging boats running amok through areas packed with dive boats displaying flags, and other, quite large launches, powering at speed at close proximity to dive flags, divers in the water and right over the top of bubble trails. Some blatant disregard for the life of fellow humans displayed by a few completely arrogant and ignorant tossers.
Adding weight to my theory that the water temperature is a little colder than usual, was feeling cold at 50 feet in my 2mm suit, which is usually fine at this time of the year. Or perhaps middle age and poor circulation is taking effect? The dive computer reported 17 degrees at 12 metres and 19-20 on the surface, which I seem to remember being a couple lower than last year.
Game fishers on the radio were reporting the odd patch of warmer water out wide, of 21s and 22s and correspondingly, some fussy tuna amongst them.
We trolled lures while undersail for many hours and the results were unusually sparse. A double strike of albacore east of Great Mercury was the most excitement, other than that, the odd kahawai hopped on to break the monotony.
Spearfishers report a slowish start to the New Year, but picked up later in the month toward the full moon. My early efforts were a bit abysmal, but in my partial defence, have been more focussed on taming the new gun-mounted action cam, and experimenting with still shots and video filming; than actually stalking fish. The camera was partly deemed necessary after last year's harassment by a large mako, off Bumper Cove. Underwater coverage of that episode would have made exceptional footage for this column, and also saved me a lot of expletives and hand-waving.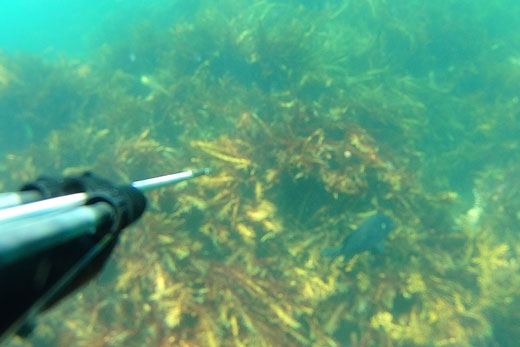 One notable mission this New Year, my son joined me on a rare father-and son-outing on the east side of GMI near Rocky Bay. After assuring him that no, stingrays weren't interested in "coming at us" and to just give them a wide berth. "They'll either stay parked in the sand or kelp, or just mosey away." Famous last words – I was proven wrong, quite dramatically.
A metre diameter short tailed black ray had been hoovering around below me, after we'd bagged a few butterfish. It seemed quite happy cruising the kelp at about 20ft sucking up bits and pieces from the spearing. I'd taken a few grainy, distant shots of it in passing, earlier in the session. When one particularly good butterfish was nailed nearby, this ray decided suddenly to follow the fish to the surface – then pursue me all the way to the chill pod at the end of the float line. Realising that it wasn't going to stop the pursuit, I briefly considering dropping it the fish. But it was so well skewered through the gill plates, the fish wasn't budging from the spearhead. And, besides, why should I give up my catch? I did that last year for the mako and it still came back for more.
All I could see was the ray's looming white underbelly and its gummy mouth, opening and closing as it honed in on fish lunch.
So swimming more briskly by the minute, I headed straight for the dinghy. I've seen a lot of rays, virtually on every spearfishing mission in 40 years, but never been pursued; and with vigour! Ben was watching from the dinghy and saw the fish come flying in first, closely followed by a fairly excited father, straight aboard the dinghy. The ray cruised to within a few metres of the dinghy and then glided away back into the depths.
Unfortunately the one time the action cam wasn't rolling… it was set on still shots and I'd earlier let go the butt and rail, with the camera mounted on the end, to drift behind as I wrangled with the spearhead.
Both of us were laughing about my assertions that rays never get aggressive. Well it wasn't aggressive, but certainly more assertive than I'm comfortable with. Any time these beasties get within tail-flick range is too close for my liking. At least it was only a short tail and I'll keep telling myself, its intentions were friendly and it's used to be fed from boats.
New year's resolution is to keep the camera rolling.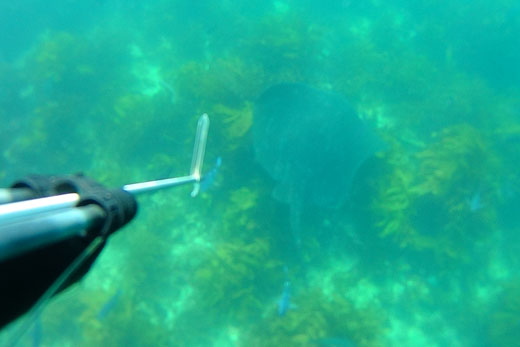 Shifting winds
Continually shifting winds meant that a lot of boats around the Mercs this year were playing musical chairs around the bays – constantly moving to find a sheltered park near a beach or bay as the winds never seemed to settle into any steady patterns. On the bright side, this was a delight for many yachties who found they didn't have to wait long for a favourable breeze change to head in their preferred direction without a lot of tack and bash.
A growing trend in the cruising grounds in recent years is the increase in fizzies – larger trailerable powerboats in the 6-7m hardtop range. This has changed the landscape in many of the favoured cruising destinations, with modern fizz boats being more reliable, capable and comfortable than ever before. They are also much more mobile than the traditional cruising launches and yachts, and able to find handy anchoring space close in to beaches.
As multihull owners, we've noticed an invasion of those spaces which used to be the domain of our shallow draft vessels, and the odd trailer yacht, able to sneak in close in a crowded bay, while the bigger boats are all forced further out in the deeper water.
Containing waste
While we're glad to see so many more people enjoying the pristine waters close in, we also have some concerns that the water stays that way – and some of these powerboats are woefully under-equipped for sanitary overnighting. After chatting with a few over a beer, it was revealed that only around half had holding tanks or other means of containing their waste.
This could be a major problem looming for our pristine cruising grounds, beaches and bays. Sure there are regulations, but we never see any policing or even education happening on the subject of waste containment. The regional councils are fairly focussed inshore, on speed, safety and lifejackets but from our perspective, there's little interest from authorities in keeping an eye on discharges from boats, particularly close to shore or around the offshore islands.
It's a dangerous paradox in that (generally) the smaller the boat, the closer to shore it's likely to camp, and the less likely to have appropriate tankage or other means of containment.
We'd like to hope that all boaties share the same regard for the environment and realise that the same water they're potentially polluting is the same water they rinse their fish with, swim in and which laps on the amazing crystal clear waters and white sands of the adjacent beach.
Vege invasion
And speaking of perfect beaches, we've noticed an increase in the amount of vegetable scraps appearing on some of the islands. Maybe it's also a by-product of the changing styles of boating – some finding they don't have the storage capacity to take away their organic rubbish. Yeah I know it's 'biodegradable' but that doesn't make it right to toss overboard just anywhere. If you have to, keep it on board till you're a decent few miles off the coast before offering the fish a potato peel salad or onion skin delight.
It's worth reminding ourselves that access to the islands is thanks to the generosity of the owners and we all should be striving to keep the seas and beaches around them pristine.
Speaking of the islands, there's a campaign to have GMI pest free in a couple of years, and you'll be seeing more on this topic in this column and future editions.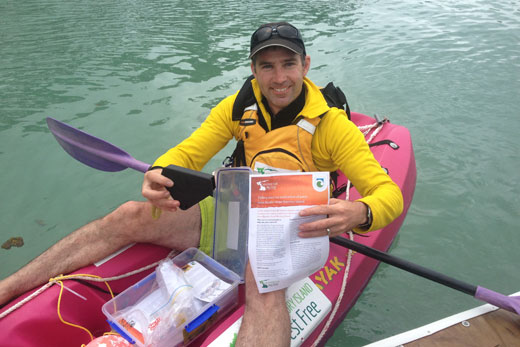 Bathtub fast response
Our last mission was cut short by a couple of days when a skin fitting developed a leak in its valve. Not a major, more nuisance value, but not the sort of thing to ignore. Back in Whitianga we were impressed with an excellent response and service from Bluewater Marine, we had the problem fixed in a jiffy. We beached the cat and the guys from Bluewater, Craig and Nathan had the job done between tides.
Probably one of the most unusual modes of transport for a boatbuilder – Craig arrived in his bathtub. He's one of Whitianga's mad cap tub racing enthusiasts, arrived with a friend, each driving an eight horse-powered bathtub. These things can really fly on their hydroplane-type hulls, reaching into the 20 plus mph range. I meant to ask him if he leaves the plug in, or out.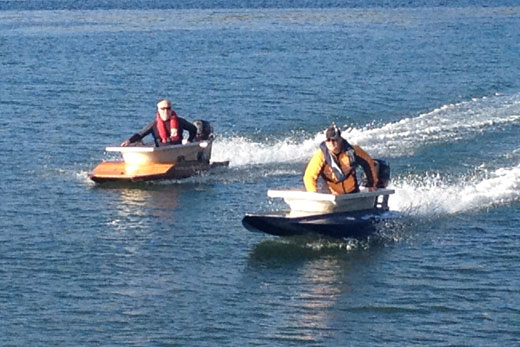 It is a serious business and seriously good fun for the many involved from local Whitianga businesses and has become quite the latest craze round town. The first local bath tub racing event was held three years ago at the Whitianga Waterways.
Since then they've raced at local beaches, the Tauranga on-water boat show, poker runs in winter on local rivers to the Coroglen, and the Waikato, and even some action in the surf.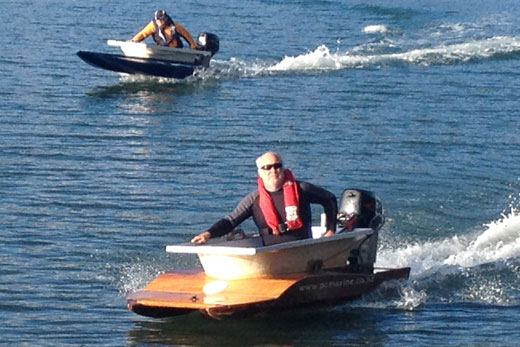 For more info, see:
www.pcmarine.co.nz/index.php?page=bathtubracing
Many thanks to the Bluewater guys for their assistance.
Tell us about your cruise, add your comments here and send us some photos:
brian@thesun.co.nz